A well-structured and organized CAPA workflow is the lifeblood of your Quality Management System. CAPAs enable you to pinpoint an issue, solve it, and prevent it from happening in the future.
We've compiled six tips that will help you make your CAPAs a continuous catalyst for growth and overall efficiency. Watch the video below or read on to learn more!
1. Create consistency with an established workflow
Keep your CAPAs consistent by setting up logical workflows that involve the right people at the right point in the CAPA process.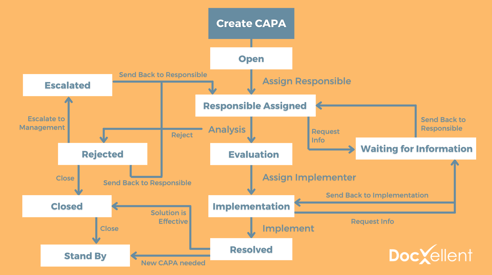 2. Establish a thorough inquiry method for root cause analysis
To conduct a root cause investigation, your company should have a systematic pre-planned inquiry method and this analysis should be conducted by trained investigators.
A typical CAPA investigation should be composed of the following steps:
State the quality issue in measurable terms and emphasize the effects/risk, ex. safety, death, injury, rework, cost, etc
Invest the necessary time and effort into the analysis
Document the process as it's conducted
Once the root cause is determined, identify all steps necessary to correct and prevent repetition
3. Make a Plan to Disseminate CAPA Findings
Communicate information on the CAPA to all responsible, affected, and interested parties throughout the lifespan of the CAPA. This includes:
Risks

Remediation plans

Regulatory reporting

Modifying responsibilities

Management accountability
4. Identify the signs of an ineffective CAPA
Define the criteria of what an ineffective CAPA looks like for your company and track against it. This may include:
Recurring issues

Difficulty managing all the sources of quality data to identify trends and issues

More reaction than prevention is occurring

More resources are being spent on handling failure than preventing it

Field issues
5. Evaluate and modify your process
It is important that you are always collecting data about how problems occur and how you solve them. To make the most of CAPA data, your company should gather specific and meaningful information on completed CAPAs. Use questions such as:
How long did it take to complete the corrective action?

If the completion date went past the deadline, why?

How much did it cost to fix the problem (including the cost of salaried time)?

Was a preventive action taken? Why or why not?
Finding weak points both in your production process and in the way you resolve problems can give you game changing insight into your company's efficiency, helping you create a more efficient CAPA process in the long-term.
6. Automate your CAPA workflow
Moving your CAPA processes into a Quality Management Software (QMS) improves visibility and efficiency, reducing the investigation cycle time. A centralized database provides the following benefits:
Electronic forms

:

help guide business and quality people to fully identify, record, define, investigate, and correct any non-conformance found.
Linking: allows you to tie CAPAs directly to their quality incidents and related documents.
Email notifications: prompt stakeholders to participate at their designated stage of the CAPA workflow and notify them of new tasks and updates to the status of the CAPA
Training: ensures your employees are trained on relevant quality and safety procedures
Reporting: allows you to capture trends and make data-driven decisions
If you are looking for an easy-to-use and fast to implement Quality Management Software to optimize your CAPA process, contact DocXellent today.