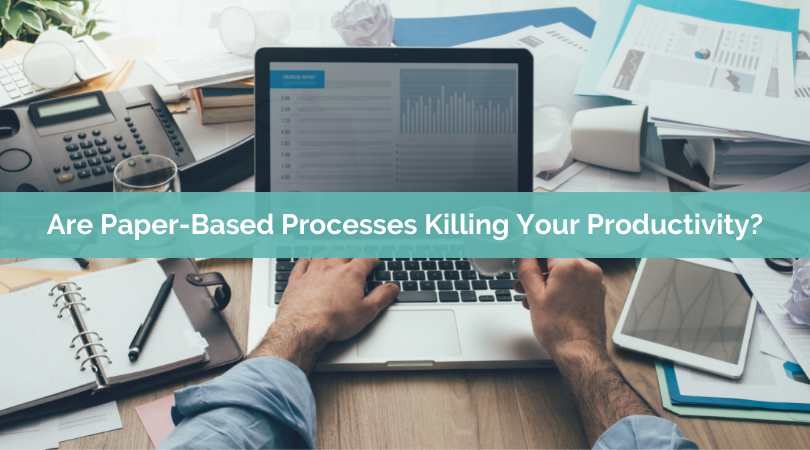 Across the board, business processes are moving digital. As they do, companies are beginning to see the benefits of non-paper methods in terms of efficiency and financial growth. Not only are paper processes becoming outdated, but they are also shown to bring down company productivity. Let's look at four major ways your paper processes may be slowing down your productivity, including slow collaboration, reduced visibility, inefficient workflows, and possible quality risks.
How Are Paper-Based Processes Slowing Your Workflows?
Slow collaboration
With paper-based processes, internal collaboration is primarily facilitated through email. When you need to reach out to a colleague to provide feedback on a document, you send the information to be edited and it gets sent back the same way. This method often leads to missed messages, erroneously sent files, and employees working off documents that aren't up to date. Rather than streamlined communication between employees, collaboration becomes slow and cumbersome.
With a digital process, your employees can access files from anywhere at any time and pass them on for review/editing within a centralized system. This ease of accessibility allows your employees to work on or view your most important documents from any device, and it also increases overall collaboration. When you eliminate the time-consuming and often vulnerable process of sending files back and forth over email, you create a more streamlined work process. A more efficient collaboration system that enables employees to access files from one central location ultimately leads to an improved business bottom line.
Reduced visibility
If your data is being stored in paper files, excel sheets, and word documents, it can be a major challenge keeping this information organized and easily accessible. You may spend hours trying to track down a certain document only to find that isn't up to date or it's incomplete. This time-consuming data retrieval process leaves your company at a disadvantage by decreasing your visibility and making it impossible to make well-informed decisions quickly and strategically.
By switching to a digital method, your team has access to detailed data throughout your entire supply chain. With a well-managed document management process, documents and data would be organized and securely stored in one system, creating a single source of truth within your document pipeline. This type of data management strategy gives you an unrestricted look at everything happening throughout your production process. Your team will be able to easily track who oversees a document, who has access to it, who's edited it, who's printed it, and who is responsible for maintaining it. Any data you need is right at your fingertips in seconds.
Disconnected workflows
Another failure of a paper-based document management process is that there isn't a streamlined system in place to store and analyze business data or facilitate your approval workflow. All reviews and approvals are done through email, increasing the time it takes to complete simple tasks. Even further, the lack of visibility we've already discussed limits your ability to quickly pull accurate data. This opens up your workflows to inefficiencies and errors and your employees prone to rework and wasted time gathering data.
With a digital process in place, companies that once needed hours to locate accurate data about their own documents can now gather and act on the latest data within seconds. It does not stop at just viewing or reporting accurate information today; these systems track data over time, which only enhances analytic and predictive power moving forward. Additionally, the timeline for the approval process is slashed as these systems automate email notifications to suppliers and employees when documents need to be reviewed or approved. Such capabilities allow your company to greatly increase your efficiency levels, saving you money and eliminating unnecessary work in the long run.
Quality and compliance risks
Tracking the necessary documentation to keep up with government regulation and internal quality processes is nearly impossible with a manual system. No matter your industry, your change control process, corrective action/preventative action (CAPA), quality audit information, and customer complaints all need to be accurately tracked and documented if you want to ensure compliance. Even with a well thought out manual method, this process can be time consuming and confusing.
Using a digital document management system, your company can ensure that your processes follow a consistent structure and are done in compliance with necessary regulations. You can take advantage of electronic signatures, validated systems, and accessible data that ensures your information will be available even years down the road if there is ever a question about compliance or specific document. You also have the ability to enforce controlled, approved values on your structured data, providing confidence that your data is accurate and compliant. Even further, document control features allow you to track and report on changes to documents, and manage incidents, audit forms, CAPAs, and nonconformances right within the same, centralized platform. These systems eliminate the stress of quality risks, saving you time and money and ultimately preventing sanctions and fines.
Switching to a digital process has many benefits, but the most impactful is the increase in productivity your company will experience as a result. By going digital, your company will successfully speed up collaboration, increase visibility, streamline your workflows, and eliminate quality risks.
Contact DocXellent today to learn how we can help you streamline your document management process for efficiency, quality control and compliance.