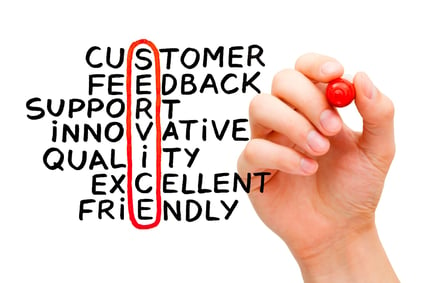 When you invest in our document control system; ENSUR, you are making a smart business decision. But it's not just a wise decision because of the advanced features and streamlined approach to document management it offers: it is a solid choice because our document control solution is backed by our dedicated customer service team. We strive to provide you with all the answers you need, any time of the day or night, and we will do it quickly and with the utmost professionalism.
What Our Customers Say About Us
While we can talk the talk when it comes to providing the very best customer service in the cloud document management industry, we wanted to know for sure that we were delivering on our commitment. As such, we recruited our current clients to partake in a short survey, asking them how we are doing with our customer support. We are pleased to report that their feedback confirms we are providing the quality customer support we promise.
Survey Results
Nearly 80% of respondents reported that they were very satisfied with our response time to their support request, with the other 20% reporting they were pleased with the timeframe. And nearly 75% of respondents were equally excited about our resolution time, while not one person said they were unhappy with the resolution we provided.
Some of the comments we were humbled to receive include:
"I have no recommendations for improvement. I always receive prompt responses from the support team. Thank you!"
"Support is always excellent!"
"DocXellent support has been amazing when I've asked for it."
"Support is top-shelf!"
"I love contacting support when I have issues, as they are always responded to, and even if it can't be resolved, some type of resolution is offered."
"Keep up the great work! [Your team] was able to assist quickly and was very friendly throughout the process."
"Great support and response!"
We thank you so much for the kind words and we promise to continue focusing on our commitment to providing quick resolutions to any of your technical software issues.
What Makes Our Customer Support Exceptional
Here is a closer look at some of the ways that we always put our customers first and make sure our customer support is second to none:
Our live support staff strives to answer every phone call quickly. Our knowledgeable support team understands what your business is about, and they know how important it is to resolve your issue swiftly so you can get your document control application back up and running as it should.
We strive to respond to every email within an hour, but often, the response time is even less.
When you need help, you can get it, no matter what time of day or night it is. Our U.S.-based team works around the clock providing technical support around the world.
To help you make the most of our document control system, we provide a comprehensive Client Portal that contains an abundance of online videos, searchable Help content, and downloadable training manuals.
Whenever we improve our software, we roll out the update to all of our clients for free, so you can always have the best document control solution available.
We commit to always treat you with courtesy and respect, and if your issue is more complex than our support team is equipped for, we will always make sure you get in touch with the right people to solve your problem.
We Use ENSUR Too
We are such firm believers in our ENSUR document control solution that we rely on it ourselves, every day, to manage our own documents and support incident process. ENSUR gives us the ability to track each incident from the time that it is received to the point that it is resolved and provides accurate, detailed status updates along the way. Not only does this make it effortless for us to locate your account information whenever an issue arises, it ensures we truly know our own product inside and out. Since we are users too, we can provide extremely effective support learned from experience—not just read from a script.
When you need a document control system that you can depend on to improve your workflow and increase your profits, relyon ENSUR by DocXellent. With us, you can rest easy knowing that our highly skilled support team is available 24/7, 365 days per year to make sure you can get the assistance you require to keep your business running. To learn more, contact us now.