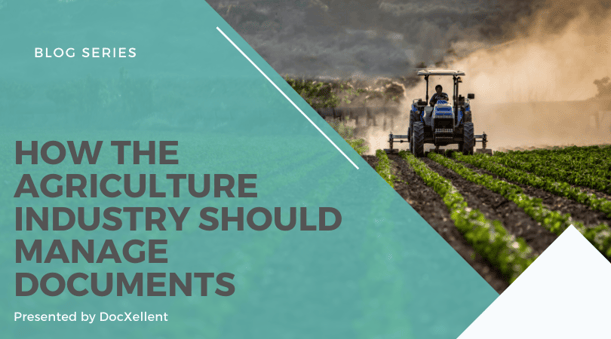 In part two of our blog series, "How Your Organization Should Manage Documents," we discussed the specific challenges faced by companies in the financial services industry when organizing their documentation and preparing for audits, and how a Document Management System (DMS) streamlines the document management process. In part three of this series, we will take a deep dive into three key challenges faced by the agriculture industry and discuss how companies can overcome these challenges using a DMS.
Challenges Faced by the Agriculture Industry
According to the United States Department of Agriculture (USDA), the rise in agricultural productivity from the early 1980s to today has been the single most important source of economic growth in the U.S. farm sector. This expansion has caused agricultural organizations to experience some unexpected internal growing pains in recent years. Below, we will take a closer look at some of the current challenges faced by the agricultural industry and provide recommendations on how to move past these pain points with a document management system.
Inaccessibility of Critical Documents
One of the largest challenges created by this productivity boom is how difficult it has become for employees to locate and utilize important company documents. Using a traditional paper system allows for the possibility of a loss of information. Because individual agriculture businesses have expanded in terms of customer base and geography, physical paperwork is often scattered around multiple locations. A study conducted by Coopers & Lybrand found that professionals spend 5-15% of their time reading information but 50% looking for it. And, 7.5% of all documents get lost while 3% of the remainder get misfiled. When it comes to storage, retrieval, and company collaboration, agriculture businesses need one platform to house all of their important documentation.
With a DMS, your documents are searchable, secure, and organized. While the large flow of documentation your company faces everyday may seem overwhelming, hosting all of your important company information on a single platform eliminates the confusing use of multiple hosting sites and a mix between paper documentation and electronic. And even better, a DMS comes with backup features that you can employ to reinforce all your information whether you use such software on-premise or in the cloud. A DMS makes the risk of wasted employee time and data loss a thing of the past.
Increased Business Expenses
Another issue caused by the agricultural industry's expansion is the increase in business expenses that these companies now face. Attempting to keep track of thousands of documents manually as well as shelling out thousands of dollars per year on printing costs can be crippling for an agriculture company.
According to the same Coopers & Lybrand study noted above, organizations spend $20 in labor to file a document, $120 in labor to find a misfiled document, and $220 in labor to reproduce a lost document. And, the Delphi Group states that "Companies on average spend $25,000 to fill a typical four drawer file cabinet, $2,000 to maintain it annually". By eliminating your company's reliance on paper, these costs will no longer fall on your business' bottom line.
With a DMS, your documentation is stored digitally. There is no need to spend thousands on printing costs and wasted employee time searching for lost paperwork. By simply implementing a DMS, these company costs can be eliminated entirely, saving your business thousands of dollars per year. Collaboration, routing, and signatures all happen through your secure and organized, local or cloud-based document management system.
Maintaining Compliance (USDA and FDA)
Adhering to strict government standards is a large task in any highly regulated industry, but agriculture compliance under the FDA and USDA is particularly difficult. And non-conformance can lead to fines, revoked licenses, and in some cases, criminal liability. A lot of efforts go into regulatory compliance and a single flaw in the system can result in adverse circumstances. In order to comply with regulatory requirements, companies should invest in a technology solution that automates control, security and the many other tasks required to maintain regulatory compliance.
With a DMS, remaining compliant is simple. These systems house capabilities that directly correlate with FDA and USDA regulation, allowing your organization to meet each requirement by simply storing your documents and letting the software do the rest. These capabilities include:
The ability to manage, schedule, and record all audit activities
A comprehensive training module that enables the creation of training curriculum by job title
Workflow that manages the creation, routing, review and approval of documents
Incident tracking that controls nonconforming products
CAPA lifecycle management that includes review, analysis, approval, implementation, acceptance and verification
Your company will be keeping up with regulatory standards without the stress that comes with trying to remain compliant manually. And, implementing a document management system will not only help improve your bottom line through time savings and fine avoidance, it will ensure that your most valuable asset – your data – is kept secure 24/7.
How Your Agriculture Organization Should Manage Documents
Luckily, all three of these common challenges seen in the agriculture industry can be greatly reduced by implementing a document control system like ENSUR. ENSUR is a document control and quality management software application that automates the management of documents and their workflows, helping you streamline your business processes and improve quality practices across your organization. Using these capabilities, your company will be able to ease the agriculture industry's document accessibility issues, high costs, and keep up with government compliance, ensuring that your business is as organized and efficient as possible.
To learn more about how our document control software can eliminate your company's biggest document workflow challenges, contact us today.
Stay tuned for next month's industry closeup as we take a look at how those in the education industry should manage their documents in order to increase efficiency and best serve their communities. Subscribe below to receive updates.