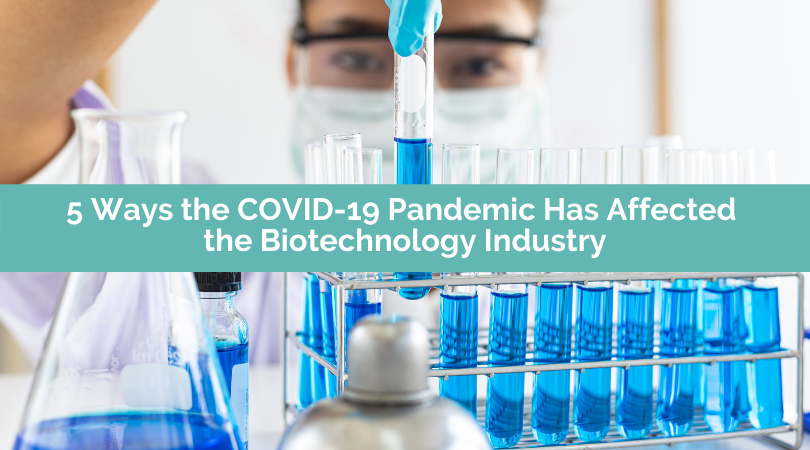 As the spread of COVID-19 slows and things begin to reopen, biotechnology professionals are starting to assess the long term effects the pandemic has brought upon the industry. In this article, we'll look at the ways COVID-19 has changed the biotechnology industry and give you a few tips to prepare for the transformations, including how to embrace changing digitization, prepare for new regulatory laws, and plan for restructured supply chains.
Industry Growth
Looking first at the status of the biotech sector, one major shift currently occurring is the growth of the industry overall. According to Drug Discovery & Development, the industry was worth $449.06 billion in 2019, mainly dominated by the U.S. and Canadian markets. Through 2025 however, the market is projected to achieve an 8.3% annual growth rate, reaching a valuation of $729 billion.
The major driver behind this growth can be attributed to rising R&D investment, the spread of healthcare access in remote areas around the world, and increasing momentum for therapeutic disease research spurred by COVID-19.
New Digital Strategies
Like most industries, the COVID-19 pandemic forced many biotechnology professionals to transition to remote work. This shift made it necessary for companies to adopt new digital strategies to keep the industry running. According to a study conducted by Deloitte, due to the frailties of the traditional biotechnology processes, a lot of these changes are here to stay.
Here are a few of the most notable digital shifts:
Once social distancing regulations were put in place, biotech representatives began to engage with physicians virtually, using new apps and portals rather than face-to-face office interactions

Biotech manufacturers were required to invest in digital technologies to allow for a shift to remote clinical trial monitoring to keep data coming in

Companies began implementing e-consent forms to allow for things like in-home nursing and de-centralized clinical trials

Biotech researchers began utilizing advanced analytics (artificial intelligence) and data visualization to predict human response to potential vaccines. This allows researchers to conduct tests before vaccines are administered to patients, speeding up the trial process
Clinical Trial Slowdown
Due to the changing biotech trial process, a redirection of focus, and financial losses, clinical trials were highly interrupted during the COVID-19 crisis. Many biotech companies have been primarily focused on vaccine development and investigation sites experienced delays due to social distancing protocols and prioritization of patient safety. In fact, approximately 80% of non-COVID-19 trials were interrupted or stopped and 23 out of 25 organizations reported some level of impact on ongoing trials as a direct result of COVID-19. 
As mentioned previously, this slowdown caused companies in the biotech industry to begin reallocating sites and staff and adopting new technologies to keep drug development on track. Moving forward, companies are expected to have this type of digital infrastructure in place to prevent trial obstruction.
How To Prepare
As your company begins to face a post-COVID world, it's important to plan for the changing industry expectations. Here are three ways to prepare:
1. Embrace digitization
Based on the efficiencies they provide, the new digital strategies adopted by the biotech industry won't be going away. This means that when moving into the post-COVID world, companies will need to learn to embrace them. Whether that be decentralizing your clinical trial technique, utilizing AI technology, or digitizing your documents, accepting the changing digital side of the biotech industry can make you more efficient and save your company money.
The pandemic proved that businesses with a strong digital foundation can adapt to changing business processes much better than those without. One example of a new digital strategy is a Document Management System (DMS). With a DMS, which offers the use of e-signatures, version control capabilities, and digitization of important business documents, your company can avoid the disruption that remote work causes. Your files are available to everyone at any stage in production, from wherever they may be working. So, even though a lot of your employees may be working remotely, you do not need to worry about document accessibility and your collaboration processes can run as they usually do.
2. Prepare for changing regulatory rules
During the pandemic, several regulatory bodies made exceptions and changed the way they conduct inspections to make it easier for companies. Now that society is returning to normal, these regulations are predicted to change. Some of the standards that were enacted during COVID include:
As these regulations return to normal, it is important for your company to thoroughly prepare. One major way to do so is to perform an audit of your current Quality Management System and confirm that the procedures you currently have in place meet regulatory requirements. This means ensuring you exemplify GMP and ISO requirements for document control as well as remaining 21 CFR Part 11 compliant. Conducting an internal quality audit will make sure the impending regulation changes don't impact your business processes.
3. Prepare for restructured supply chains
When COVID-19 first began spreading in China, all supply from them stopped. Of course, this had a major impact on imports around the globe. Massive delays in the creation and shipping of active pharmaceutical ingredients (APIs) affected the business practices of many biotech companies, which was only exacerbated by employee absences and social distancing regulations. 
To avoid this in the future, companies have begun considering the need to do three things: regionalize supply chains, create secondary sources, and build stockpiles. By spreading out the source of your biotech shipments, having shipping sites to fall back on, and creating reasonable stockpiles, companies will have multiple backup plans in instances of emergency. But with this new supply chain technique will come changes to the way biotechnology companies do business. It is important for your company to anticipate these shifts and mold your business processes to them.
How Can ENSUR Help?
The ENSUR Document Management System is a comprehensive system for enforcing standardized, controlled processes and managing your documents from point of creation to distribution and storage. The browser-based system is available on-premises or in our GxP compliant Cloud so that your employees and stakeholders can access the system anytime, anywhere, effectively connecting your entire supply chain. Fully integrated with our Quality Management features, ENSUR will help you meet changing regulatory standards by facilitating the connection of quality and compliance throughout your product lifecycle.
If your company is having issues adjusting to the changes that COVID-19 has brought to the biotechnology industry, we can help. Contact us today to see how our ENSUR Document Management System can help your company adjust to the effect of the pandemic and stay connected.