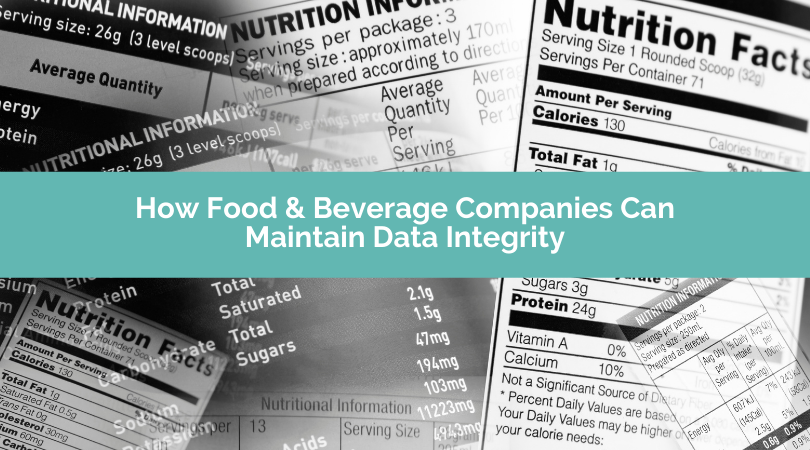 For food and beverage industry professionals, maintaining data integrity throughout your supply chain is critical. Not only is it required under FDA's Title 21 CFR Part 11, but it can also bolster your company's visibility, knowledge, and control within your manufacturing facilities. In this article, we'll discuss what data integrity looks like and examine four ways your company can achieve it – including performing internal audits, utilizing electronic forms, implementing change control, and validating your business software.
What Is Data Integrity in the Food & Beverage Industry?
Generally, data integrity is defined as the accuracy and consistency of data over its lifecycle. Data with integrity is said to have a complete structure, with all of characteristics that define the data managed correctly. However, in the food and beverage industry, data integrity represents much more. Consistent data in food manufacturing ensures a well-thought-out manufacturing process, quality products, and healthy customers.
In the past, the FDA has always taken a reactive stance when it comes to data integrity; when a consumer got sick, the government tried to track the cause to its source. Now, they attempt to prevent contaminated and unsafe food products from being released to the public in the first place. This shift has placed a heightening pressure on food and beverage manufacturers to produce a quality product and catch supply chain issues before they turn into a compliance breach.
This is where data integrity comes in. Instead of relying on physical inspections like they have in the past, the FDA has turned to data collection. They analyze the data amassed by every food producer, transporter, and processor as products move through the supply chain in order to identify and eliminate sources of contamination before they hit the shelves. This means that keeping your data consistent and valid is more important than ever before. In the next section of this article, we'll discuss three major ways to improve your company's data integrity and avoid compliance issues.
How Can Your Company Improve Data Integrity?
There are three major ways your company can move toward a more consistent data process. Let's take a look.
Perform internal audits
Internal audits are a great way to ensure your company's data is being measured and stored through consistent methods. The overarching goal of an internal audit is to ensure that your company's quality procedures are being followed and to alert you of any holes in policy compliance. A thorough audit of your internal systems enables you to resolve any important policy issues that could lead to a future compliance incident.
Your internal audit should answer these five key data integrity questions:
Is electronic data available?
Is electronic data reviewed?
Is meta data (audit trails) reviewed regularly?
Are there clear segregation of duties?
Has the system been validated for its intended use?
Even further, an internal audit can act as a data cleaning and maintenance technique, giving your company the ability to analyze your audit trail process. This means you can examine the way your data is being stored and documented to ensure its consistency. Generally, audit trails are comprised of:
Discrete event logs
History files
Database queries
Reports
Electronic records
Raw data contained within the record
Analyzing these types of files can give you insight into your company's data trail and help you determine if it's being properly tracked before it's checked by the FDA.
Structure Your Data with Electronic Forms
Another way to uphold consistent data practices is by implementing structured data through the use of electronic forms. Structured data refers to any data that resides in a fixed field within a


record or file. This includes data contained in relational databases and spreadsheets.




Excel files and Word tables are often referred to as "quasi

-

structured" data.



When trying to maintain data integrity, it is vital to keep your data accurate and standardized. And because electronic forms are very strict in defining data, they ensure data standardization. Each field is pre-configured to store a specific number of alpha characters or numbers, or even single or multi-value pick-lists with administrator controlled acceptable values. This prevents database users from entering numbers into a character field or vice versa. Electronic forms help preserve data integrity through the following controls:


Controlled, approved values – Dropdown lists, checkbox lists, text, calendar, formulas, English/metric converters, grids
Standardized naming conventions
Required fields
Character limits
Security (full editing, read only, or no access)
Full audit trail on field changes



Utilize the Change Control Process
Another way to bolster your company's data integrity is to focus on your change control methods

. Change control is the process of ensuring that changes to your documents, processes or systems are introduced in a controlled, coordinated manner and tracked for auditing purposes.

A change control document represents

a systematic and sequential entry of data supporting change in a project.



If your company utilizes a Quality Management System (QMS), your change control process is likely automated. Some of the key stages of the change control process that are automated within a QMS include:
Manage changes to multiple documents with a change order so they are reviewed, approved and made current as a synchronized group

Categorize your changes

Document the reason for change

Create a thorough description of the changes to your documents

Add comments to support the review and approval

Attach affected documents through unique Change Links

Create default routings for different categories of changes

Modify the routings of documents that require one-off reviews or approvals
By routing your document versions through your QMS, tracking each data change becomes streamlined and automated. Therefore, your company's data integrity can be upheld without any extra responsibility placed on your team.
Validate your software
Since validation is required by the FDA for most software systems, validating your QMS is a foolproof way to keep up with data integrity and quality standards. Unfortunately, validation can be extremely time-consuming and difficult to keep up with, especially as it concerns legacy systems, on-premises software systems, or software which has been heavily customized to meet an organization's requirements. If the QMS software your company uses contains a considerable number of complicated codes or custom integrations with other systems, you will most likely constantly face functional issues or complexities each time you need to update the software or resolve a security issue. Your vendor may offer limited support for validation or charge a costly consulting fee for this process.
To make this process easier, investigate how your chosen QMS will be validated, not only at the time of installation, but also during operation, performance, and the periodic re-validation process that is included in the change control procedure. Choosing a quality system with cloud FDA compliance capabilities is often the best choice, as these systems generally include a simple re-validation package within their client services. With the cloud, instead of compliance being a constant burden for your company, the regulatory stress will be placed entirely on your vendor. This allows you to focus on your bigger business goals and leave 21 CFR Part 11 worries to the people who know the ins and outs of the requirements.
When trying to create a culture of data integrity for your company, following these four steps is essential. Your company will be able to meet the FDA's data integrity standards, as well as deliver an outstanding product to your customers. And with a reputation in quality moving forward, your company will be more competitive in the marketplace.
Our ENSUR Quality Management Software makes it easy to maintain your company's data integrity. Contact us today to learn more.