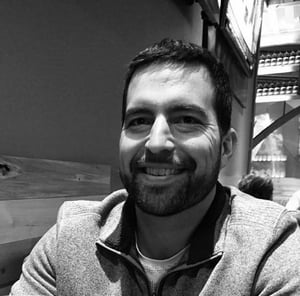 As the Technical Support Manager, Chad Bouley has many roles and is involved in every aspect of the software lifecycle. One day you may find him developing database objects for a new version of the ENSUR software, and the next you may see him putting together custom reports. He and his team are responsible for solving any technical issues that may arise, both internally and client-based. If that wasn't enough, Chad also oversees the execution of the professional services offered by DocXellent, including data migrations and any custom database development.

Chad is well-suited for the technical support manager role because he thrives on discovering how things work. He is his happiest when he can see a problem and solve it efficiently. Since Chad would rather be reliant on his own knowledge over someone else's, he will often reverse engineer a problem to come up with the solution. His efficiency has earned him the nickname, "The Prince Among Men", around the office, borrowed directly from a client's feedback.

Since college, Chad has had an interest in computers and how they work; however, he ended up getting a degree in Marketing from UCONN. After graduation, he started with Daticon, and has now been in the technology industry for over 20 years. Chad took a break from Daticon for a few months to do pharmacy claims auditing for Ingenix but went back to Daticon (known as DTI at that point) to pursue data analysis and management opportunities.

In 2015, Chad joined the DocXellent family, and he has never looked back. He loves getting to work with such exemplary people, and he values the work ethic and insights of everyone around him. Additionally, he is impressed with the fact that DocXellent lets employees put their families first. They recognize that he goes to work every day for his family, and they are understanding when any of life's unpredictable situations arise. In fact, he loves working here so much, he encouraged his wife to work here, too.

Throughout his three years at DocXellent, Chad has provided the team with many valuable contributions. But one of his major accomplishments has been helping one of our largest clients migrate over 100,000 documents from their XML format into the ENSUR system, while also completing side projects for the development team. He took the project and ran with it, creating a huge success for him and for the company.

When he's not at the office, Chad's focus is spending time with his daughter and wife and, (much to her dismay), playing Hearthstone, a virtual trading card game. He also loves to tell everyone he meets about how amazing intermittent fasting is.

Chad is proud to be a part of the DocXellent team and especially appreciates how he is able to use his creativity. He comes to work every day feeling empowered, knowing that he can speak up and contribute and will be met with respect and appreciation. Throughout the day, Chad is always looking for ways to improve DocXellent's processes so our offerings continue to be the best on the market.