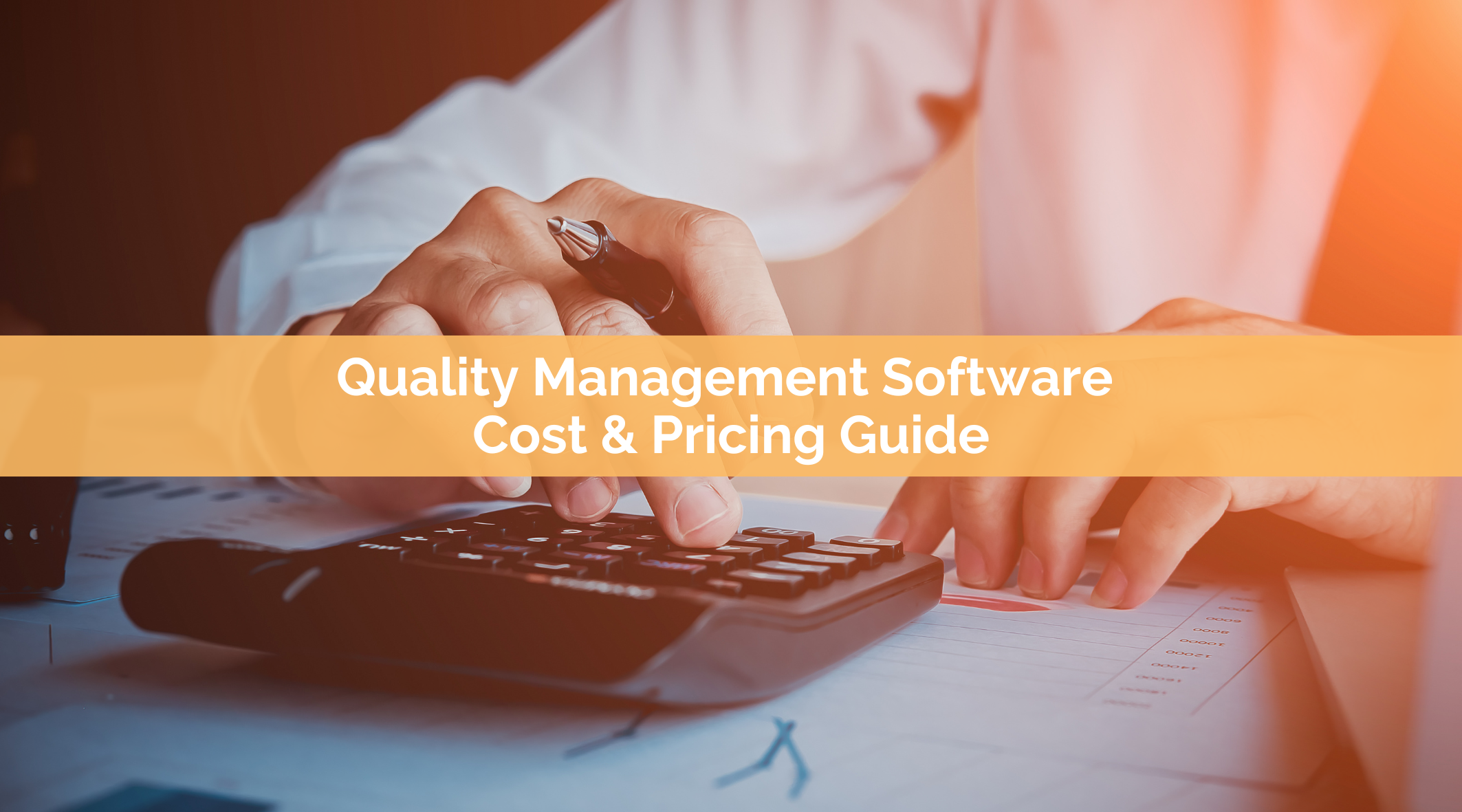 Researching Quality Management Software for your company can be a time-consuming process. Combing through multiple vendor websites to understand their product offerings, compare features, and determine which may be the best fit for your organization is overwhelming. However, the biggest complaint we hear from QMS buyers is that the ballpark cost of these systems is often guarded by vendors and the pricing structures can be confusing.
As a customer-focused company, we want to pull back the curtain on eQMS pricing and share our knowledge from 30+ years in the Document Control and Quality Management space. We'll guide you through the different considerations that factor into the cost of these systems and empower you with information so you can be more informed heading into conversations with QMS software vendors.
How Much Does Quality Management Software Cost?
The average price of a comprehensive quality management software depends on many factors but can range anywhere from $15,000 to $50,000 per year before additional services like custom development, migration assistance, integrations, and validation.
There are five key factors that affect the cost of a quality management system:
Pricing Model: flat rate vs. tiered vs. per user
License Types: users with different levels of permissions/access
Installation Type: on-premises vs Cloud-hosted
Annual Maintenance or Subscription fee
Scope of Services: consulting, data migration, integrations, software validation, training, custom development, and managed services

Quality Management Software Pricing Models
Flat rate pricing: Flat rate pricing consists of a single plan which offers all the features and benefits for a single price, e.g., a single monthly price of $500 (or $6,000 billed annually) grants access to all features of the company's product.
Tiered or feature-based pricing: Tiered/Feature-based pricing consists of different price point tiers based on added features or functionalities of the software, e.g., offering Basic, Pro, or Enterprise tiers based on your size, the number of users, features, or storage space needed.
Per-user pricing: Per-user pricing consists of charging based on the number of individuals using the software, e.g., $150/month for every named user in the system.
License Types
If a QMS offers different license types (which allows you to assign your users different levels of permissions/access) a vendor may charge differently for each license type. This can be a cost-saving advantage if you have users who will need varying levels of access to the system such as read only, edit access, etc. Ask software vendors if they have a licensing model and what they charge for each type of license.
Installation Types
On-premises installation: On-premises software installations are priced lower than Cloud-hosted systems because they are installed locally behind your company firewall, and thus, the responsibility for system maintenance falls on your internal IT resources.
Cloud-hosted: Cloud-hosted software is usually priced higher than on-premises because the vendor handles all the responsibilities of managing the system for you; including provisioning/maintenance, health monitoring, backups, disaster recovery, and cybersecurity/information security. Additionally, your QMS vendor has to pay monthly hosting fees to their Cloud provider (AWS, Azure, Oracle, etc.)
Your IT leadership will likely influence which type of installation is preferred for your company. However, many companies are moving to the Cloud because of its undeniable long-term efficiencies and data protections. On average, cloud-hosted installations run $10,000 more than on-premises installations.
Annual Maintenance/Subscription fee
Different vendors have different fees for annual software maintenance which covers things like software updates, bug fixes, service packs, and technical support. Some companies charge a flat, all-inclusive yearly fee, and others offer tiered pricing for different levels of support. The price is typically a percentage of the initial software license fee – which is usually between 16-25% of the license cost per year.
Scope of Professional Services
The scope of additional services you may need from a vendor to customize and configure it to your unique business requirements and processes will affect the initial purchase price of your QMS system. These services may include any of the following:
Software validation: vendor performs your software validation for you (for regulated companies)
Migration services: vendor assists with migrating your legacy data into the new system
Integrations: vendor sets up integrations between the new software and your existing business systems
Custom development: vendor performs custom development of your instance of the software to accommodate feature use cases unique to your business
Training: vendor performs additional training outside of what is included with your annual maintenance fee
Managed services: vendor provides managed services for your software environment
Vendors may charge differently for their services, but some common types include:
Fixed price: vendor quotes a flat price for agreed-upon deliverables
Time & material: vendor charges for the hours of work needed to finish a given project and for all the materials used
Fixed budget: vendor specifies an upper limit that your budget will not exceed. If the cost of the project rises above the threshold, the vendor will cover the additional outlay
Understanding the varying factors that contribute to the cost of quality management software doesn't have to be confusing with the right vendor. As you're researching different systems, we recommend choosing a vendor who is transparent, knowledgeable, and genuine about wanting to help you find a quality management solution to your business pain points.
For information on how to find the perfect QMS for your company, download our Quality Management System Buyer's Guide:

To get a first-hand look at how ENSUR can help you fine-tune all your quality control methods, schedule a free demo today.
---

Amy Sinyei Rodrigues is DocXellent's Chief Customer Officer. In this role, Amy works with our customers to make sure they are getting the most they can out of our Document Management Software, ENSUR. After graduating with a BS in Industrial Engineering and an MBA in General Management, Amy worked with several enterprise software and solution services providers in the electronic discovery industry before bringing her years of expertise and valuable education to DocXellent 6 years ago. Learn more about Amy and the work she does for DocXellent here.