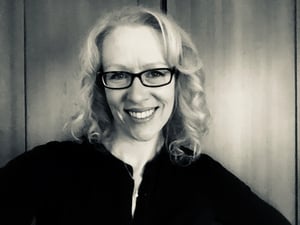 Julie Rue Browne, DocXellent's Senior Client Relations Manager, is much more than just that. She is originally from the Midwest but has called the Connecticut seaside home for many years now. She came to DocXellent to act as the primary point of contact for enterprise customers, providing detailed consulting and software support. But what Julie loves about her job stretches far past the services she provides. For Julie, her role at DocXellent means contributing in various capacities all over the company, whether it's improving products, heightening company efficiency, or, quite truly, "anything else I can get my hands on!"
Julie graduated from UConn with a degree in Political Science but later fell into the world of technology. Her first professional gig was in Electronic Discovery at Daticon in 2000, and it was there that she realized she'd found her 'thing'. At Daticon, Julie was able to apply both her love of data mining and problem-solving to an exciting and fast-paced industry.
Since 2000, Julie has been able to grow and build up her skill set through her valuable experiences in the tech industry. Her communication and organization skills have helped her excel in her current position, allowing her to bring "fiery" situations to a more stable state. She also describes herself as more of a listener than a talker, a quality that comes in handy when dealing with clients.
Since joining DocXellent, Julie has enjoyed collaborating with and being part of such a highly motivated team. She loves the DocXellent team for many reasons, but her number one reason is that everyone is dedicated to providing the best service and product in the industry. Julie loves that DocXellent employees truly listen to their customers and make improvements where they see fit, as a team. The team-focused environment and opportunities for collaboration at DocXellent are what Julie appreciates most about her work. At DocXellent, Julie explains, "everyone has an individual voice, but realizes that greater success can be achieved through collaboration."
As a member of a small but mighty team, Julie believes that every employee at DocXellent is 'spotlight-able', each contributing their own special skills and voice in the matter at hand. In the time she's spent at our document management company, she's come to understand on a deeper level just how dedicated, hard-working, and genuine each and every employee is.
Julie finds great joy in her job, but she also loves her life outside of it. With two little ones, ages two and six, she admits that when she's not at work, she's at a different kind of work. Motherhood, as she puts it, sometimes feels like a "second full-time job." But it's one that brings the ultimate happiness, seeing her little one's become well-rounded, grounded individuals.
Julie is proud to be a member of the DocXellent team where she is able to utilize and grow her skills alongside her colleagues. To Julie, DocXellent is a true embodiment of the phrase "there's no 'I' in 'team'," with every member playing a key role in each success.