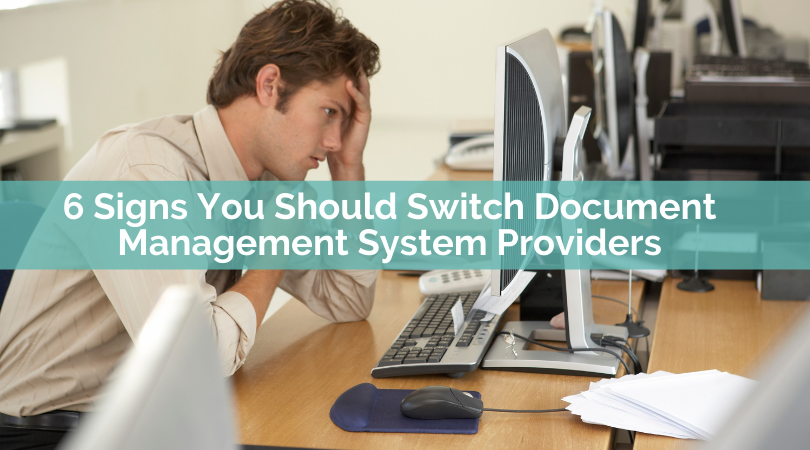 A Document Management System (DMS) allows your company to move from an inefficient paper process to a digital one that will cut costs and improve your data security – when done properly. Whether you are new to the DMS realm or have been using one of these systems for years, it is important to reevaluate how efficiently the software you chose is operating. This article will discuss six signs that your document management system needs an upgrade.
Poor search function
A system that allows comprehensive searching can save your company a lot of time and headaches. We all know that manually searching for a document within an outdated database can take time, time you may not have during a busy workday. A comprehensive DMS will have a searching functionality that can retrieve records matching specific criteria, cross-reference records in multiple tables, and perform searches across specific fields quickly and easily. This provides a flexibility to sort and present data in many different ways that would be very difficult to do in an outdated system, even with properly organized data. So, if your DMS offers a search function that seems to be lacking in usability, it may be time to find a new provider.
No flexible storage options
The type of storage your DMS provider offers is another important aspect of the document management experience. A DMS software that doesn't offer cloud hosting may have been the only option in the past, but it no longer serves most companies. This is primarily due to the laundry list of requirements an on-premise system needs; additional hardware equipment, power and cooling, and full-time technicians.
On the other hand, a cloud based DMS software stores your data in offsite servers that are looked after by a team of technicians who aren't on your payroll. With the increase in remote work, the best part is that cloud software allows you to access your files from any internet-connected device, so you can work wherever you go. Lastly, a document management software vendor with a 21 CFR Part 11, GxP compliant Cloud can drastically reduce your validation overhead. So, for companies subject to regulatory oversight, a flexible solution helps you to streamline your workflows while exceeding regulatory requirements, giving you more time to focus on your business.
Does not help you meet regulatory requirements
You should also consider how helpful your current DMS is when complying with government regulations like FDA 21 CFR Part 11 and ISO standards. For many companies, a lapse in compliance can come with massive legal fines and customer complaints. Unfortunately, an outdated DMS can lack many of the necessary tools for your company to keep up with regulations. These standards often involve keeping the documents secured, tracked, verified, and retrieved. They also expect that you're keeping backups of critical files that you can restore upon request. Meeting all these guidelines can become a headache when you don't have an updated, centralized DMS. Switching to a more advanced document management system can provide the necessary controls to make your job easier.
No workflow automation
Workflow automation is an important part of increasing your company's efficiency. When you automate the flow of key business processes, your employees no longer have to complete tedious, time-consuming tasks; the frustrations of not being able to find information quickly disappear. It can also be helpful in enabling your organization to improve the efficiency of collaboration with employees and vendors at multiple locations. Automation allows anyone on your team to share information into a workflow process, no matter where they are located. Every employee responsible for completing a task can view it in the central DMS and email updates can be sent to alert employees to new tasks in their work queues. Without a DMS that automates workflow, your team could be wasting time and overlooking necessary tasks.
Little to no customer support
When your team experiences technical issues with your document management system, you need support right away. Experienced providers offer same-day, 24/7 customer support via email, phone call, or a customer portal/knowledgebase. They should be available to investigate and offer clarity on complex technical issues to ensure your problem is resolved and doesn't affect business operations. They should also make it a priority to release regular software updates to address any bugs, provide new features and protect your software from a wide range of threats. If these services are not offered by your current provider, it is definitely time to consider other options.
Weak security
A strong security infrastructure is arguably one of the most important features any DMS can have. Some of your company's most sensitive data is stored in your DMS software, so you can't afford to have sub-par security measures. The most fortified document management solutions let you safeguard confidential business information through multi-level security policies and tiered access control where authorized users alone are allowed to view certain files or documents. Because a well-secured DMS provides better control over sensitive documents, access to documents can be controlled at the folder level for different groups or individuals. This ensures that private information will not be seen by the wrong people. Also, a DMS leaves an audit trail of who has viewed a document, when it was accessed, and how it may have been modified. As a result, managed documents are highly traceable and can be tagged to allow for automated alerts.
However, the software should not be the only thing keeping your data safe. In addition to robust security features, your provider must also offer round-the-clock security monitoring and back up your data in multiple servers. Not all providers have these services, so make sure to review how your current one protects your data.
Not all document management systems are built the same. And while it can be hard to predict the path new technology will take, your company deserves a DMS provider who will do anything to keep your system as advanced as possible. At DocXellent, being ready to adapt to new technology and changing regulatory requirements is one of our primary goals.
Our document management software, ENSUR, is user-friendly and easily configurable to fit your unique business cases. Whether you want to start out small with the opportunity to grow, or you want a feature-rich enterprise solution with unlimited scalability, ENSUR is flexible and scalable to your organization. With our migration services, moving your legacy data into our ENSUR document control system has never been easier.
Contact us for a demo or for more information about our ENSUR Document Management Software and DocXellent Managed Cloud solutions to improve your company's efficiency and upgrade your processes.