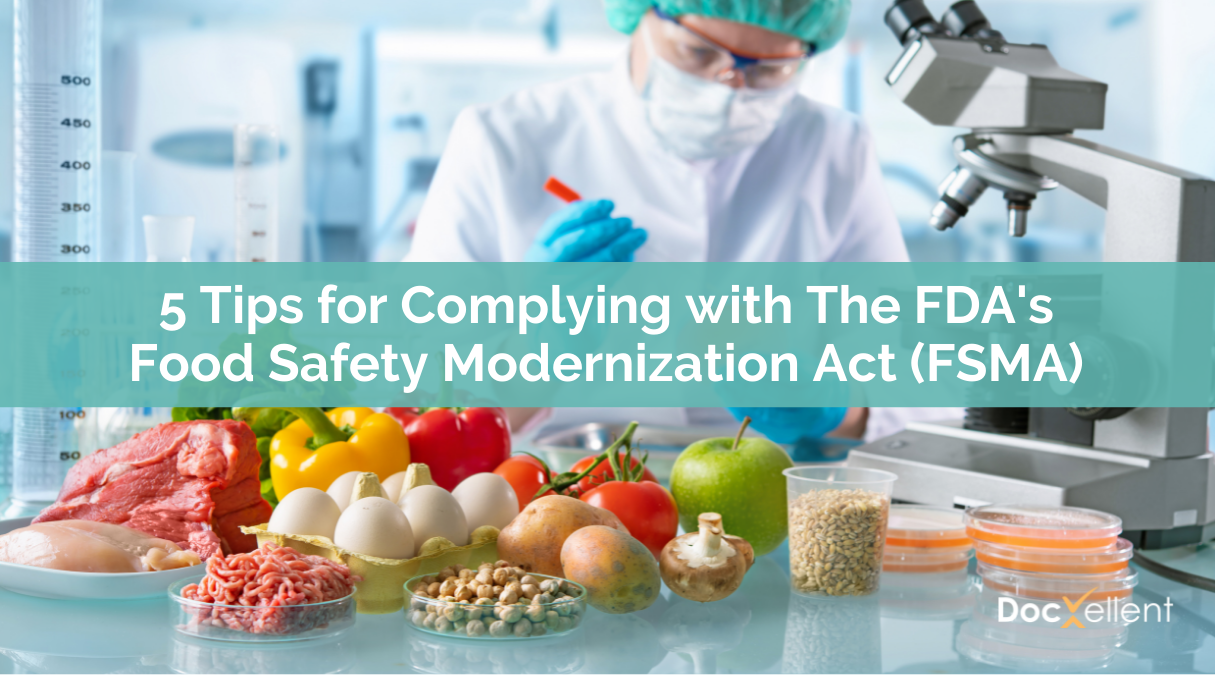 According to recent data from the Centers for Disease Control and Prevention, about 48 million people in the U.S. get sick, 128,000 are hospitalized, and 3,000 die each year from foodborne diseases. The recent changes to the FDA's Food Safety Modernization Act (FSMA) are working to change these statistics. In this article, we'll be outlining exactly what the FSMA includes and giving you five tips on how to make compliance simple. Read on to learn more.
What is the Food Safety Modernization Act?
The FSMA was signed into law over ten years ago on January 4, 2011, launching a new era of food safety regulation. The regulations under FSMA's umbrella aim to transform the United States' food safety system by shifting the focus from responding to foodborne illness to preventing it. As the act evolved, the FDA eventually landed on seven final rules for the implementation of modern food safety prevention practices by those who grow, process, transport, and store food.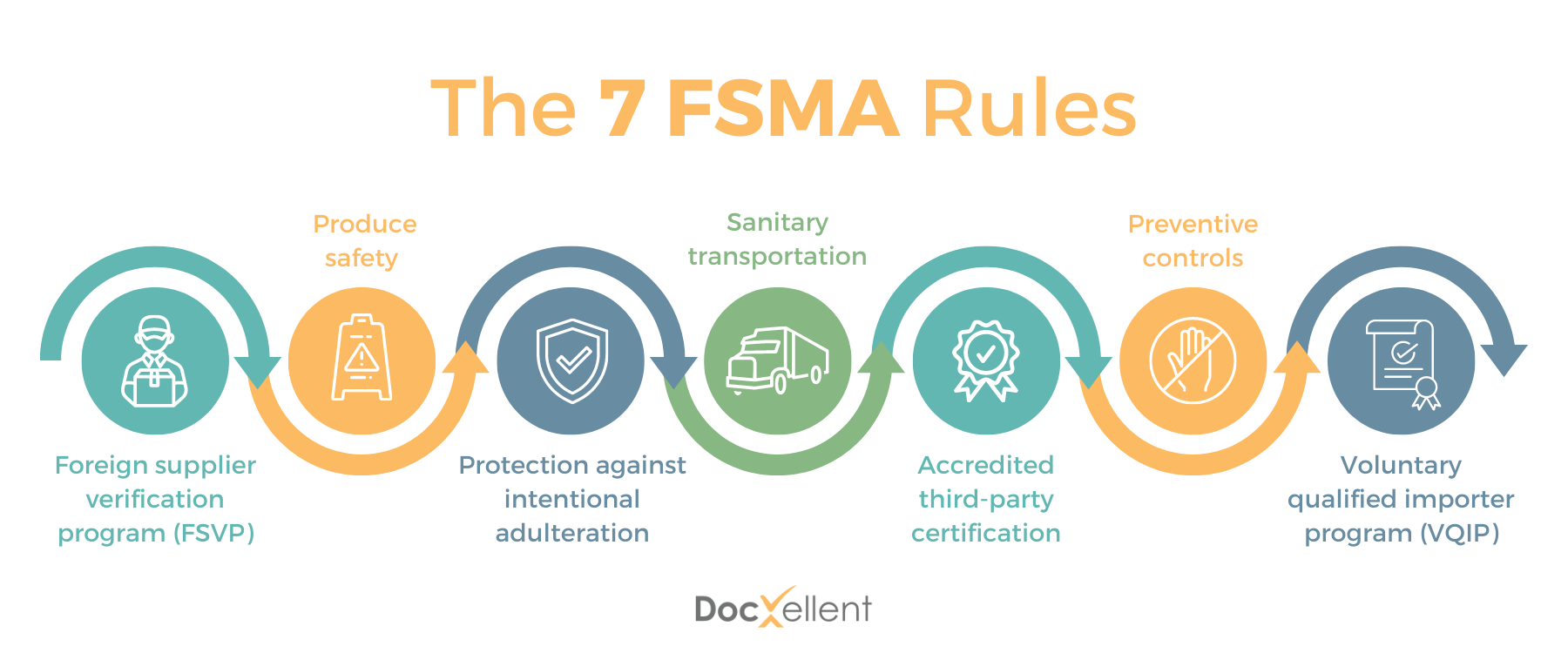 1. Foreign supplier verification program (FSVP)
The Foreign Supplier Verification Program applies to importers of human and/or animal food into the United States. It requires distributors to perform certain risk-based activities to check that imported food meets applicable U.S. safety standards.
2. Produce safety
The produce safety regulation establishes minimum standards for food safety practices such as growing, harvesting, packing, and holding food for human consumption. This food safety law covers farms that provide products that can be consumed in their raw state.
3. Protection against intentional adulteration
This rule is concerned with "preventing intentional adulteration from acts intended to cause wide-scale harm to public health, including acts of terrorism targeting the food supply." All the facilities covered by this regulation must develop a protection plan that includes a vulnerabilities assessment, mitigation strategies, production monitoring, corrective actions, and verification.
4. Sanitary transportation
The sanitary transportation rule requires food and beverage companies to develop and sustain preventive controls for potential hazards and contaminants that may occur along the transportation process. It requires organizations to fulfill transportation standards such as temperature regulations, vehicle conditions, and other good manufacturing practices.
5. Accredited third-party certification
This regulation outlines "the framework, procedures, and requirements for accreditation bodies seeking recognition by the FDA, as well as requirements for third-party certification bodies seeking accreditation."
Certifications provided by third-party accreditors serve as evidence of quality and can be used as proof of eligibility for the Voluntary Qualified Importer Program.
6. Preventive controls
This rule requires food producers to have a food safety plan implemented that includes a comprehensive hazard analysis program and comprehensive, science-based preventive controls for these standards.
7. Voluntary qualified importer program (VQIP)
This program helps participating importers, that pay a user fee and meet eligibility criteria, import their products to the U.S. with greater speed and predictability. Requirements for safe food certifications under the VQIP ensure that the importer adheres to the food safety regulations of the country. The FDA has an FAQ page dedicated to VQIP – you can find that and more information on the program here.
How Can Your Company Simplify FSMA Compliance?
With the seven FSMA rules outlined, let's take a look at five tips to make meeting these regulations simple.
Perform an internal food safety audit
The first step toward meeting FSMA compliance is to conduct a thorough food safety audit. Internal audits are a great way to prepare for an FDA inspection as well as ensure your company's processes are meeting regulatory quality standards. The best way to perform an audit like this is to follow an FDA Good Manufacturing Practices (GMP) audit checklist, which includes nine parts:


By inspecting these nine areas of your production, you can locate and resolve any holes in your FSMA compliance process

before they cause more serious problems.



Implement preventative controls
Once potential risks have been identified through the audit, the next step is to establish controls to mitigate them. These controls can include things like process regulations, allergen levels, sanitation expectations, and training. Generally, these controls can be created and detailed in your company's food and safety plan

. Just make sure you cover every potential risk; you don't want to gloss over anything and have it hurt your chance of compliance down the line.



Closely monitor those controls
With these controls outlined, it's necessary to actively monitor, verify, and validate

them as your company continues production. This is the only way to ensure your food safety plan is working the way it's intended to. However, how you choose to track these controls is unique to each company. To ensure effectiveness, companies can measure specific parameters such as temperature, monitor an aspect of the environment, test products routinely, or find a comparable data tracking method.



Document every piece of your business process
Next, be sure to track every component of your FSMA food safety plan. This includes your programs that make up the plan, proof of completion and validation, all test results, supplier documents, and CAPAs

. The reason this is so important is to demonstrate quality when your company faces an audit. Without proof of past compliance, it's impossible to pass a quality check. This process can be simplified with a comprehensive, cohesive

Quality Management System (QMS)

, which we'll talk about next.



Implement a Quality Management System (QMS)
The last step to meeting the expectations of FSMA is implementing a QMS.

When being audited by the FDA, it is essential that your company can demonstrate how you function within their regulations. With a capable quality management system, employees can make compliance simple:
Assign, track, and verify action items
Set up training requirements
Track documentation:

Where it is in its lifecycle
Who's accessed it
Who's printed it
Who's responsible for maintaining and seeing it to its conclusion

Utilize cloud storage to keep important documentation secure
Collect digital signatures on-site
Document and create custom workflows
Your entire quality management process can be implemented through the system to quickly and easily prove FSMA compliance every step of the way before an auditor even steps in the door.
The Food Safety Modernization Act is a necessary part of creating a strong global food chain and ensuring general public safety. Therefore, meeting the regulations it outlines benefits both your company and customers. Once you have determined which of the rules mentioned above apply to your business, use the five tips we've outlined today to make implementing the necessary procedures and safety measures for FSMA compliance simple.
Contact DocXellent today to learn how our ENSUR Quality Management System (QMS) can streamline every aspect of your Food Safety Modernization Act compliance.