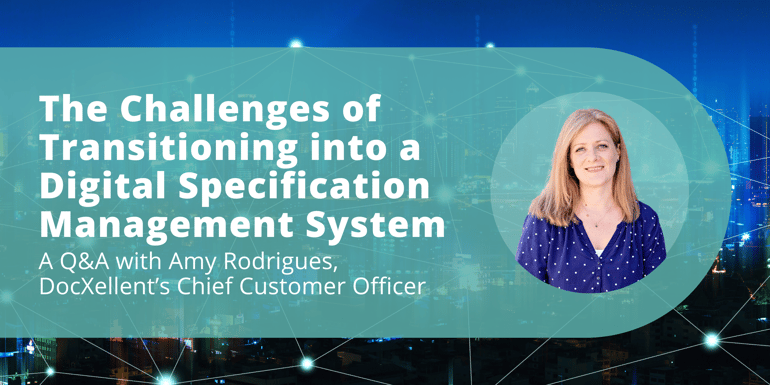 We interviewed DocXellent's Chief Customer Officer, Amy Rodrigues, to learn from her extensive experience with spec migrations and get her insight into how companies can optimize their transition into a digital Specification Management System.
About Amy Rodrigues
Amy leads DocXellent's Support, Professional Services, and Training teams. She advises and works closely with DocXellent's customers to help them optimize the use of both the built-in features and optional customizations of ENSUR. Her primary focus is on implementing ENSUR for packaging specification management and educating customers on best practices for managing structured data in a GxP compliant way.
Amy has a BS in Industrial Engineering and an MBA in General Management. After completing engineering school, Amy realized that she needed a career that was both technically challenging and ever changing, and one where she could put her interpersonal skills to use. She brought her years of expertise and valuable education to DocXellent, and she is a true asset to both our staff and customers.
The Q&A
Manufacturers often come to the realization that in order to improve quality and efficiency, you need a more streamlined way to manage your product or packaging specifications. However, you've probably also considered that digitizing your processes can be daunting. Long migration timelines, a lack of internal resources, and mountains of data can all make the process seem impossible.
Amy Rodrigues, our Chief Customer Officer, has extensive experience in specification management and the steps involved in converting a manual process to a digital one – hint: it's not as hard as it seems if you're working with an experienced specification management vendor. In this Q&A, Amy will discuss the benefits of specification management software, some of the hurdles companies might face when making the digital transition, and solutions to help make digitizing your processes simple.
How many years of experience do you have working in the specification management space?
As Chief Customer Officer at DocXellent, I've been working with specification management customers using our software, ENSUR, for the last six years.
What types of companies are you working with to optimize their specification management?
The most common industries that are managing specifications and looking for an electronic spec management system are those that are highly regulated and/or in the life sciences sphere. Generally, these are pharmaceutical, consumer health, consumer goods, food and beverage, and cosmetics.
How are most of these companies managing their specifications?
Most companies that are looking for a technical solution or a spec management platform typically manage their specifications in Excel files, Word documents, PDFs, or some combination thereof. They're also typically storing them either on file network shares or a SharePoint site so that they can be centrally located. As part of those methods, they are likely also storing copies locally on their own PCs, as well as transferring them to both their sales teams and vendors and suppliers via email.

What are the key benefits companies are missing by not utilizing a specification management software?
Oh, so many! First, fundamentally, systems designed for spec management treat a specification as a controlled document; a document that should have version control and metadata associated with it, such as who created the specification, when they created it, a formal workflow, and an approval mechanism. This means having formal peer review with auditing of the changes made by their peers, as well as controls around approvers.
When you think about a regulated industry, such as pharmaceuticals, people are typically unable to approve their own document, rather, they need three or four team members to approve it, whether that be peers, managers, or regulatory personnel. Putting a document into a SharePoint or a network share makes it very laborious and time-consuming to obtain those approvals manually. But, in a spec management system, this process can be automated to have pre-filled routing, and it can also move the document from person to person in an automated fashion.
Additionally, spec management systems are not only designed to manage Windows-based content, but also to manage the specifications in electronic forms. This means that your required data, like dimensions, performance, material type, and supplier info, can be put into structured fields such as drop-downs. You can choose for numeric text entries to be decimals or integers, decide how far you want to take a decimal, and even pad with zeros for consistent entries. Once data is structured, it's searchable at the field level – whereas windows-based content has limited searching ability.
Also, once the data is in a structured database that is using electronic forms, you can link records together so you can populate once and propagate many. This means you have the ability to change one spec and have that value propagate other similar specifications.

Let's take for example a non-printed component. The ability to take, say, an unprinted carton, make a change to the carton, and have that propagate to all related printed specifications (of which you would have many, since you may have one carton used for many varying different brands, variants, and markets). In the paper or Word document world, you have to go to each of those individual specifications, update all of them, reroute them, and ensure that you've done it accurately across dozens or even hundreds of specifications.
Lastly, when your data is structured, it is very easy to integrate just certain pieces of information with your ERP or MRP. One of the most common themes we hear about is the ability to understand what products are using sustainable and recyclable products and then push that information over to the ERP and MRP so that you can engage with it from a purchasing and supplier perspective. So, if you only need certain information integrated, like weights, dimensions, pallet packing data, or sustainability information, you can link only those certain fields of interest to another database because the spec data is stored at a field level.
It seems like a no-brainer in this day and age to go digital. What do you think is the biggest hurdle for companies to digitize their specs?
What we see most often when people come to us looking to move to a spec management system is that they often find that the cost to do so makes sense and fits within their budget, but they simply don't have the internal resources to accomplish it. It seems like a Herculean effort to take Windows-based content, re-design those documents as electronic forms, and then move all the data from Word documents into spreadsheets to be able to migrate it into a spec management system in order to have it ready, available, and fully electronic.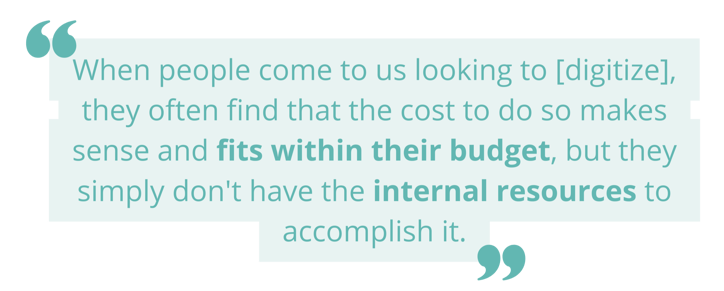 What are some strategies companies can employ to overcome their resource issues and move forward?
What we focus on with our customers is crawling before walking. As specifications are revised, or new products are released, they need specifications for those net new items. So, we tell our customers to start with putting those in the system as electronic forms and leave their old documents in the format that they are today.
Those old documents can also be migrated into the system as is, which means that the legacy content does not get migrated initially as electronic forms, only the new records are, but you're still able to take advantage of having specifications in a system that can streamline workflows. This includes features like automated routing from one approver to another, email notifications when someone has a task or when a new specification has gone current, and even sharing the database with external suppliers so that it's easy to distribute content with them without emailing or hosting it inside a firewall. There are many advantages to doing a little bit at first rather than procuring the software and waiting to start until you have the time to become fully digitized.


How to overcome the biggest hurdles to digitizing specs

What happens after the initial rollout of your spec management software

How your software vendor can make your specification management transition simple

Expert tips on digitizing that Amy has learned from her many years of experience in specification management