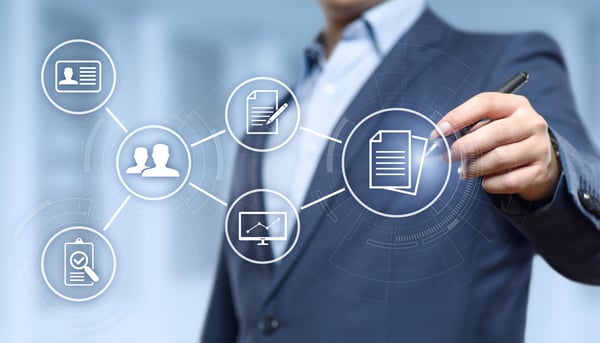 Companies that work with a host of vendors and suppliers know just how complex and essential the documents and data are that go into juggling those relationships. Each connection with a vendor or supplier has to be meticulously tracked with an ongoing parade of documents to be maintained and updated at all times. The data in those documents is critical to tracking inventory, shipments, purchases, supplies, etc., as well as building areas of common benefit. When either of these parties runs into outdated forms or data, trouble worth thousands of dollars can roll up and down the supply chain, to the customer. DocXellent's ENSUR document management software (DMS) prevents those mishaps and keeps the vendor-supplier document flow organized, accessible, and manageable.
ENSUR Document Management System Enhances Supply Chain Management
Keeping track of all supplier and vendor information that connects with your company's workflow requires management of each piece of data that connects your company to your suppliers. This includes reliable version control, easy routing, verifiable approvals, contract reviews (to manage expirations and renewals), tasks, templates, and more. Because the ENSUR document management system is capable of running in a tightly-secured cloud-based environment, your company can easily share these documents with approved outside suppliers and vendors, empowering quick collaboration and verification of data between each party. Save time by using ENSUR document control software to manage all the following documents with your suppliers:
RFIs and RFPs
NDAs
Contracts
Plans and drawings
Work orders
Instructions and procedures
Packaging specifications
Formula cards
Product specifications
Artwork
Using older, non-cloud-based information management systems to wrangle these complicated documents while keeping permissions and versions under control can take anywhere from hours to days - and wasted time means wasted money. With a fast, secure way to manage documents and collaborate with your suppliers and vendors, your organization becomes more agile in a fast-changing marketplace.
ENSUR Document Control Software Helps Companies Use Supplier and Vendor Data Intelligently
Data is business currency, but without an intelligent information management system to store, update, and analyze that data, a company can lose out. What makes ENSUR such a powerful document control software is its ability to help companies pull and analyze data, from both Office documents and customized forms that you create through the platform. Not only does this make periodic audits and contract reviews a breeze, it helps you generate custom reports that shows you trends, points out customer habits, highlights vendor and supplier strengths and weaknesses, and warns you of non-conforming supplies or products quickly, so you can take action.
Vendor and Supplier Information Management that Makes You Agile
By streamlining the way you store, update, verify, and otherwise manage all of your supplier and vendor documentation and information, ENSUR gives your company the power to make quicker, smarter decisions. This gives you a better edge in a wildly competitive business world, enabling you to act at the right time, based on the latest information. To find out more about how ENSUR document management software can help you manage all of your supply chain and customer relationships more intelligently, request a demo today.