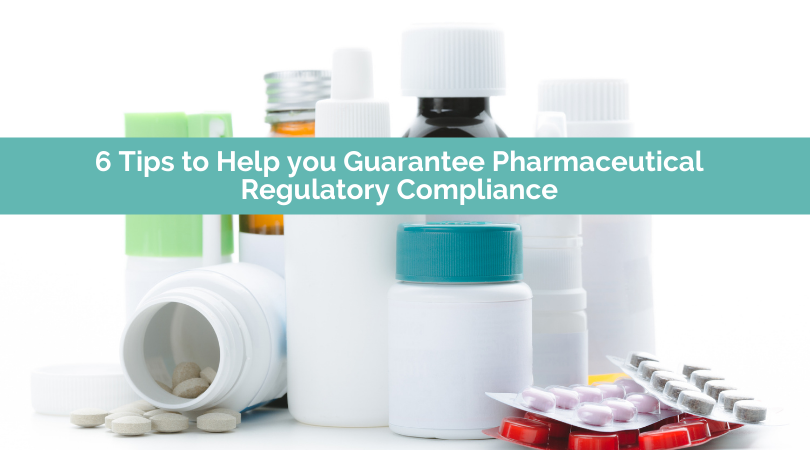 Pharmaceutical companies are hit year after year with strict regulations and shifting expectations from government organizations. In fact, the number of warning letters administered during failed FDA audits has steadily increased over the last few years. According to reported data, in 2018 the organization had delivered 439 compliance warnings; in 2021 that number exceeded 650. Regulatory professionals in the pharmaceutical industry are tasked with keeping up with these changing expectations to avoid business losses and hefty fines for their company. In this article, we'll provide six tips to help you ensure regulatory compliance for your organization. Read on to learn more.
Identify The Regulations That Apply to Your Company
Before you can prepare for regulatory requirements, you need to be aware of the ones that apply to your company. As a pharmaceutical company, you are likely under the guidance of FDA CFR Title 21. However, to see your organization's unique requirements, you can take a look at the FDA's Title 21 of the Code of Federal Regulations to determine the exact classification your products fall under.
In addition to these specific CFR requirements, the FDA requires pharma companies follow current good manufacturing practices (CGMP). This is defined as: "The regulations provided by the FDA that guide the design, monitoring, and maintenance of pharma facilities and processes." To learn more about these specific requirements, take a look at this article from the FDA: Facts About the Current Good Manufacturing Practices (CGMPs). Research what is required of your company, so you don't over-prepare or miss crucial steps.
Put Together a Regulation Team
Once you're aware of every regulation your company needs to prepare for, it's time to put together a team to tackle your regulatory process. Keeping up with regulations can be extremely time consuming. Therefore, you need a dedicated task force so you don't put yourself in a position to fall behind.
Once this team is assembled, they should first look at the potential risks your company faces when trying to meet your regulatory expectations. List potential difficulties, perform internal audits, and keep your organization aware of the types of regulatory requirements you face. These risk assessments should be routinely updated, keeping in mind that regulations are ever-changing. Ensure this team is adaptable and up to date with the shifting pharma landscape so you help alleviate some risk of falling short on regulation requirements.
Keep Communication Open Throughout Your Organization
To successfully meet government regulations, you need to make sure compliance is a part of your organization's culture. To accomplish this, your employees need to be aware of, and thoroughly educated on, the various FDA obligations. Break down each regulation into smaller pieces, narrowing them down to specific job requirements. This way employees at any level with any job description know how they fit into the larger regulation puzzle. In order to successfully meet your regulatory needs, educating your team and getting your entire organization on the same page when it comes to compliance is a requirement.
Developing a training matrix is one of the easiest and most organized ways you can assist in these communication efforts. A matrix will help you establishing employee groups by department/job title and allow you to marry that information with SOPs, policies, and actual training curriculum per job title. This can easily be done using a spreadsheet.
Establish Clear Audit Trails
Setting up a process to accurately track the path of your files and documents is the next step in mastering the regulatory process. These paths, called audit trails, allow you to view which user performed any given action to your records. You can see if records were created, edited, or deleted and view when this action occurred. By maintaining complete digital records of your processes, you can demonstrate to an FDA auditor that your company's commitment to quality and accuracy. Even further, you can respond to an auditor's request for any document or record at a moment's notice.
Essentially, audit trails ensure that if a regulatory organization is ever questioning your company's regulatory strength you can prove compliance. In the even that an auditor or inspector is not provided with traceable actions, validation status is often looked at as suspect. So, in order to meet regulations and remain compliant in the eyes of these authorities, you need to keep an accurate audit trail system. The easiest way to do so is generally through the use of a Document Management System (DMS) with quality control capabilities. We'll talk about that a little later.
Prepare for and Keep Up with Software Validation
Another part of meeting compliance requirements is to ensure every software you utilize is fully validated. The validation process consists of checking that a software system meets specifications and requirements so that it fulfills its intended purpose. So, if your company uses a software to oversee your manufacturing processes, or organize documents and audit trails, you need to keep up with that system's validation.
Unfortunately, validation can often be extremely complicated and hard to keep track of, especially as it concerns legacy systems, on-premises software systems, or software which has been heavily customized to meet an organization's requirements. If a system you use contains a considerable number of complicated codes or custom integrations with other systems, you will most likely constantly face functional issues or complexities each time you have to update the software or resolve a security issue.
Therefore, before choosing any type of software, be sure to research how the system will be validated not only at the time of installation, but also during operation, performance, and the periodic revalidation process that is included in the change control procedure. Choosing systems with cloud FDA compliance capabilities is often the best choice, as these systems generally include a simple revalidation package within their client services. With the cloud, instead of compliance being a constant burden for your company, the regulatory stress will be placed entirely on your vendor. This allows you to focus on your bigger business goals and leave 21 CFR Part 11 validation concerns to the people who know the ins and outs of the requirements.
Utilize a Validated Document Management System (DMS)
In today's confusing regulatory climate, investing in a validated Pharma Document Management System (DMS) is the best option to keep your company up to date on its compliance requirements. With an adept DMS, the issue of muddied communication, inaccurate audit trail tracking, and complicated software validation is resolved. Here are some of the major benefits of a DMS:
Enables full traceability across your product lines, allowing you to easily track who oversees a document, where it is in its lifecycle, who's accessed it, who's printed it, and who is responsible for maintaining and seeing it move into production
Allows you to create your own electronic forms where you can structure data, control inputs, and easily align your different departments on standards to ensure quality and compliance
Depending on your vendor, these systems often come fully validated. This guarantees your organization will respond with confidence to any regulatory body in an audit and that you comply with every necessary regulation
Without a fully validated Document Management System, it's easy for your company to fall behind on regulatory requirements and struggle to meet compliance.
Every pharmaceutical company needs to successfully manage their regulatory process. While compliance in the pharma industry can be confusing, it doesn't have to be difficult. With the steps we've outlined today, this process can be pain-free.
If you are looking for an organization to help you improve your pharmaceutical compliance process, DocXellent can help. We are glad to advise you on how you can accomplish your goals and demonstrate how our quality management software, ENSUR, can help your company meet government regulations. Contact us today.