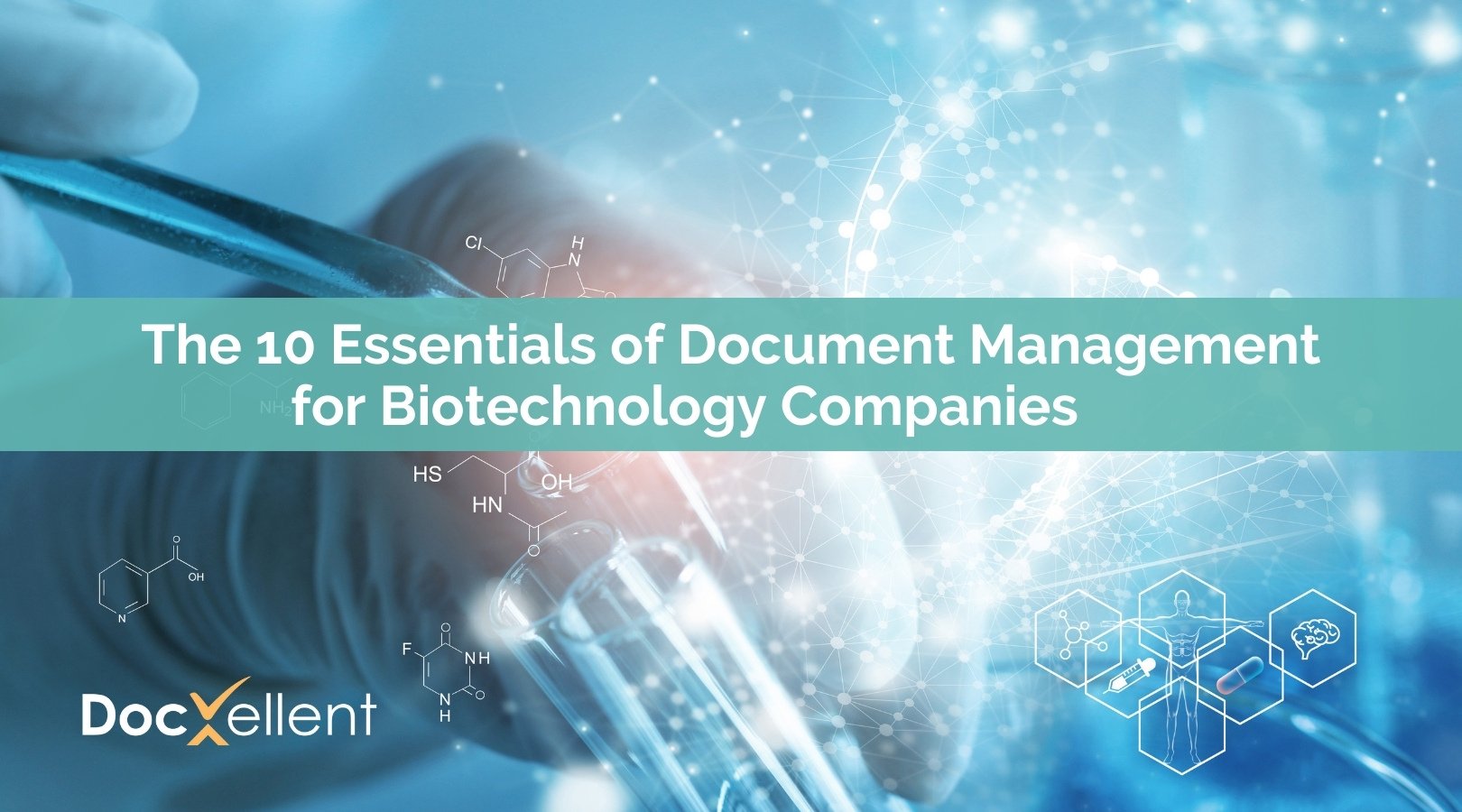 As part of a highly regulated space, companies in the biotech industry are subject to strict guidelines and oversight. This, in combination with the mounting pressure from consumers to bring new products to market, leaves little room for mistakes. Without a strong document management process, it's easy to fall behind on production and risk regulatory failure. In this article, we'll be discussing the top ten essentials biotech professionals should look for when creating or modifying their Document Management System (DMS).

What is Document Management?
Document management is the process by which organizations manage documents from the point of creation to distribution and storage. It encompasses workflows that include your documents themselves, the protocols you've put in place to control them, and who gets to interact with them.

For companies in the biotechnology industry, document management can be considered one of the most critical components of your organization's quality management process. When your organization is involved in the process of developing new treatments, drugs, or regulated products, you will be generating a large number of confidential documents and data. This information needs to be maintained securely and efficiently in order to prepare for audits and have proof that your products are being developed safely.

This is where document management comes in. A strong DMS offers compliance, efficiency, security, faster time to market, and one single source of truth for all your company's important information. Let's take a look at some of the specific functions that help produce these benefits.

What Essential Functions of Document Management Does Every Biotech Company Need (and why)?
If your company is looking to implement a document management method, or to improve upon the one you already have, here are ten functions you shouldn't gloss over:

1. Advanced searching
The information in your DMS should be easy to track down and utilize. With advanced searching capabilities, you have the ability to search for data at the field level, making finding information simple and fast. When your team can spend less time searching for documents and tending to manual, repetitive tasks, they have more time to dedicate to value-adding work, increasing your company's overall efficiency.

2. Role-based permissions
A document management system should have security features that control who has access to particular documents and the type of changes a person can make to the content. Security is important, and you do not want anyone within or outside of your company having the ability to view and edit any document on record without the proper permissions. So, when searching for a software it is important to check if systems allow you to closely monitor and choose who can access content, participate in workflows, and who will receive emails when documents go effective.
3. Audit trails
Cultivating a document management process that accurately tracks the path of your files and documents is necessary for full regulatory compliance. These paths, called audit trails, allow you to view which user performed any given action to your records. You can see if records were created, edited, or deleted and view when this action occurred.

By maintaining complete digital records of your processes, you can demonstrate to an FDA auditor that your company is committed to quality and accuracy. Even further, you can respond to an auditor's request for any document or record at a moment's notice. Essentially, audit trails ensure that if a regulatory organization is ever questioning your company's regulatory strength you can prove compliance. If an auditor or inspector is not provided with traceable actions, validation status is often looked at as suspect. So, in order to meet regulations and remain compliant in the eyes of these authorities, your DMS needs to include a comprehensive audit trail system.

4. Reporting
Document management reporting is another pivotal piece of the business process. Reporting allows you to create different PDF or Excel reports for different audiences and stitch together parent reports with attachments and related references/drawings. These can be used for things like informing internal decision-makers or providing training reports to an auditor. Essentially, this compiled data opens the door for increased visibility into organization-wide processes and easier compliance management.

5. Workflow management
A document management system should include a workflow component that automates your company's repetitive processes. This essentially means streamlining the review, approval, distribution, retrieval, and obsolescence processes for documents. For example, after the creator of a document finishes writing it, the document might automatically get put into an established workflow and sent to an editor. Once the editor signs off on the document, it might go to a reviewer, who signs off on its contents. Workflow automation ensures content flows smoothly and that there aren't any lags or pauses during an important project.

6. Compliant
A well-constructed DMS should help your company remain fully compliant with much less hassle than a traditional method. Document control software allows you to automate your standard operating procedures (SOPs) through workflows and demonstrate they're being followed. When audit time comes around, the digital storage of your documents will help you retrieve the relevant ones instantly and organize the material needed to quickly collect data for the audit.

Additionally, your company should consider the validation process of your DMS. Validation is necessary for compliance, but it can be extremely complicated and hard to keep track of. If you choose a DMS that contains a considerable amount of complicated codes or custom integrations with other systems, you will most likely constantly face functional issues or complexities each time you have to update the software or resolve a security issue. Before definitively choosing a document management method, investigate how the system will be validated not only at the time of installation, but also during operation, performance, and the periodic revalidation process that is included in the change control procedure.

7. Security
Another important aspect of searching for a DMS is the amount of security it offers. With a manual system, whether you host your documents physically or in individual computers, your company's information is at risk. When documents are not well-managed, the possibility of important information being exposed to the wrong people is considerable. And company information falling into the wrong hands can bring irreversible damage to a business.

In addition to role-based permissions and audit trails that help protect data and prevent it from falling into the wrong hands, a DMS bolsters your document security practices by reducing the need for email during the document management workflow. The transfer of large and sensitive documents, particularly via email, can be a significant cyber risk for any business. Document management systems reduce the need to distribute files via email as they allow users to share directly from the system database. All-in-all, switching from a manual management system to a digital one will keep your documents safe from cyber threats and will mitigate any threats your company may face.
8. CAPA management
Corrective Action Preventive Action (CAPA) refers to the process of inspecting and resolving the cause of identified non-conformances within your production processes. If your quality process is lacking in any way, CAPA solutions allow you to pinpoint an issue and solve it, preventing it from happening in the future.
Having a well-structured and organized CAPA process is vital for any business' document management process, especially those in the highly regulated biotech space. A company with very few CAPAs is often an automatic red flag. An auditor wants to see that you are using the procedures you should be using according to necessary regulations. Auditors also understand that no company begins with a perfect quality process. Even the most quality-driven organizations are continually updating and improving things; CAPAs allow the auditor to review this entire process transparently.
9. Training management
A document management system should offer comprehensive training management across all levels of your team. Scheduling and implementing training courses across a company requires a large amount of organization and coordination, especially companies with multiple locations. Attempting to perform these processes on spreadsheets and unintegrated systems heightens the risk of human error and makes managing a comprehensive training program a painful task.
With a capable DMS, your documents are centrally located, which enables you to define training requirements based on job title, manage rosters, test comprehension, and track the results of training events all in one place. This provides your company with the tools needed to deliver training to all your employees, whether they're in your office or across the world and confidently demonstrate your training compliance to auditors within a few clicks.
10. Automated notifications
Lastly, a document management system should offer automated email notifications. Staying updated on changes happening in your document management software is very important, especially if you are dealing with important work-related documents and tasks related to them. However, users cannot be expected to work constantly in their document management software to manually monitor these changes.
Using email notifications, the people who are involved with a specific document know when changes are being made within the system. This does not have to remain limited to your employees. Document management systems can allow notifications to be sent out to your suppliers and vendors, helping you further streamline your workflow. With a manual email system, if you accidentally choose to send email warnings to the wrong people, important contributors could be left out entirely and miss important updates. Therefore, an email notification system is an extremely important feature to look for in a DMS.
When documentation is essential to your success as a company, as it is for any company in the biotechnology industry, good documentation procedures are vital. Your stakeholders, brand name, and regulatory bodies rely on the accuracy of your processes and documentation. So, implementing a robust and capable DMS is necessary for streamlined business practices. With access to these ten functions, you'll effectively increase efficiency, meet compliance standards, increase security, and create a single source of truth for your data.
If your company still relies on a paper based DMS or you're looking to improve upon your document management process, consider switching to our ENSUR Document Management System. Contact us for a demo or for more information about our ENSUR Document Management Software.