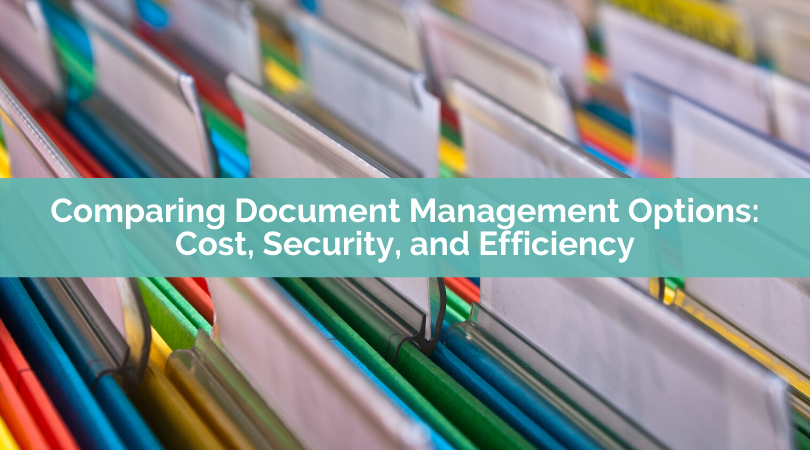 If your company still uses manual methods to store and organize your documentation, you may be missing out on critical efficiency that a Document Management System (DMS) can provide. A well-maintained document management process can help your business save money, avoid security risks, and streamline your overall productivity. But before choosing a solution that is best for you, it is important to evaluate your organization's needs in order to pinpoint your document management priorities and see which areas you need the most improvement. In this article, we will discuss cost, security, and efficiency benefits to help you narrow down exactly what your business should be looking for in a solution.
Cost Benefits
The first category to consider when looking at DMS options is different document management cost benefits your company will receive. With a manual system, your company most likely spends a large amount of money on paper and printing costs. And, you need a place to store all of these documents. That means that you are wasting precious building space and business dollars on paper folders and filing cabinets that are unnecessary in the organization process. Not to mention the hours of unproductive time your employees spend searching for physical documents.
With an electronic document management system, these cash drains are virtually eliminated. Rather than buying filing cabinets, paper, and other resources, a DMS can store thousands of digital files in one place. When your paper and ink needs decrease, the need for tech support to address print services decreases as well. And when you no longer need to file printed documents because you are storing them electronically, your business requires less physical space. By lessening the need for in-house support and being able to downsize your office you will begin to see both long-term and positive impacts on your bottom line. Overtime, this switch will save your company a lot of money that can be put toward more productive business expenses.
Even further, when it comes to your employee productivity, time saved is money saved. According to a McKinsey report, with a manual system employees spend an average of 1.8 hours per day (9.3 hours per week) searching and gathering company information. In addition, as many as 20% of business hours are spent searching for information that is essential for employees to do their jobs effectively. By switching to an electronic DMS, employees have the ability to search for documents using keywords, shortening the retrieval process and saving your company time and money. DMS also gives the opportunity to access documents remotely. As long as there is internet connection, documents can be accessed from virtually anywhere.
Increased Security
Another important aspect of searching for a DMS is the amount of security it offers. With a manual system, whether you host your documents physically or in individual computers, your company's information is at risk. When documents are not managed, the possibility of important information being exposed to the wrong people is considerable. And company information falling into the wrong hands can bring irreversible damage to a business.
Document management software solutions let you safeguard confidential business information through multi-level security policies and tiered access control where authorized users alone are allowed to view certain files or documents. Because A DMS provides better control over sensitive documents, access to documents can be controlled at the folder level for different groups or individuals. This ensures that private information will not be seen by the wrong people. Also, a DMS leaves an audit trail of who has viewed a document, when it was accessed, and how it may have been modified. As a result, managed documents are highly traceable and can be tagged to allow for automated alerts.
In addition, a DMS increases your document security practices by reducing the need for email during the document management workflow. The transfer of large and sensitive documents, particularly via email, can be a significant cyber risk for any business. Document management systems reduce the need to distribute files via email as they allow users to share directly from the system database. All-in-all, switching from a manual management system to a digital one will keep your documents safe from cyber threats and will mitigate any threats your company may face.
Improved Efficiency
Your company cannot afford to waste time sorting through and trying to locate essential business documents. Whether you currently store them in physical files or across several different digital platforms, upgrading to a DMS will increase your employees' efficiency. According to the McKinsey report we discussed earlier, employees spend an average of 1.8 hours per day (9.3 hours per week) searching and gathering company information. In addition, as many as 20% of business hours are spent searching for information that is essential for employees to do their jobs effectively.
Switching to a DMS would allow your company to cut these numbers down significantly. Document management systems provide a central location for all your business' documents, media, and files. Employees will not need to save files to their computer hard drive or a USB stick, they simply log into their management system and any document they may need is available in seconds. The time your employees would be spending shifting through paperwork or recovering lost documents can be used for more essential and important business practices, increasing overall efficiency and saving money.
So, if you are looking to lower business expenses, increase document security, and improve your efficiency, a DMS is the way to go. Our document management software, ENSUR, is user-friendly and easily configurable to fit your unique business cases. Whether you want to start out small with the opportunity to grow, or you want a feature-rich enterprise solution with unlimited scalability, ENSUR is flexible and scalable to your organization. And with our migration services, moving your data into our ENSUR document control system has never been easier.
Contact us for a demo or for more information about our ENSUR Document Management Software and DocXellent Managed Cloud solutions to improve your company's efficiency and reduce your reliability on paper.