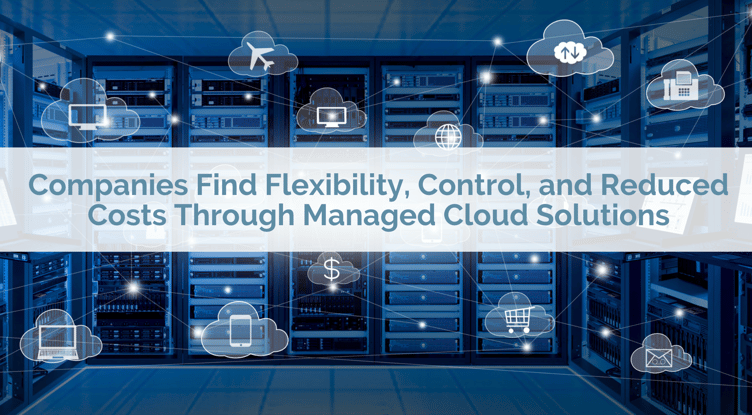 The Benefits of a Managed Cloud Solution
Organizations run on information. Securely managing that information is critical now more than ever. As it becomes clearer that on-premise data is often prone to security threats, costly downtime and data loss, managed cloud solutions are rising in popularity. Though migrating from on-premise to the cloud may seem like a difficult task, it is easier to implement than other systems and provides lots of advantages to its users. In this article we'll discuss the benefits of the managed cloud including private vs. public flexibility, overall security control, and reduced business expenses.
Flexibility
One of the biggest benefits of the cloud is the flexibility it gives your business. Namely, the choice you have for the type of computing you would like to use: private, public, or a combination of both.
A private cloud hosting solution, also known as an internal or enterprise cloud, resides on a company's hosted data center where all of your information is protected by a firewall. This can be a great option for companies who already have expensive data centers because they can use their current infrastructure and do not have to go through an unnecessary transfer process. However, it does have its drawbacks. Mainly, with a private cloud, all management, maintenance and updating of data centers is the responsibility of the company instead of on their cloud provider. And it is expected that over time your servers will need to be replaced, which can get very expensive. On the other hand, private clouds offer an increased level of security and they share very few, if any, resources with other organizations.
In a public hosting option, your company is not responsible for any of the data management. Your information is stored in the provider's data center and the provider is responsible for the management and maintenance of the data center. This type of cloud environment is appealing to many companies because it reduces lead times in testing and deploying new products. However, the drawback is that many companies feel security could be lacking with a public cloud. Even though you do not control the security of a public cloud, all of your data remains separate from others and security breaches across public clouds are rare.
If your company chooses a combination of both, or the hybrid cloud option, data and applications can move between private and public clouds for greater flexibility and more deployment options. For instance, you can use the public cloud for high-volume, lower-security needs such as web-based email, and the private cloud for sensitive, business-critical operations like financial reporting. This option gives your company control and flexibility that is not available if you choose strictly private or public cloud computing.
Whichever option you choose among the three, a managed cloud gives your company more choice than ever before in how you do your computing.
Security Control
In addition to flexibility, managed cloud computing adds increased level of security to your document storage. In the event of a disaster, like a fire or electrical storm, your data is kept safe. A recent study by insurance company Nationwide showed that 68% of businesses have no disaster recovery plan in place, and 49% said it would take three months or more to recover from a national disaster. This means that if an unforeseen disaster were to strike these companies and causes data loss, their business would might not survive. By choosing to use a managed cloud service, the responsibility of data loss prevention is placed on the cloud provider. And since your company's information will be locked and encrypted within the cloud with redundant backups at other physical locations, the risk of data loss is dramatically reduced.
In addition to disaster recovery benefits, a managed cloud ensures that data centers and mature infrastructures are designed with intense security best practices. Equipment is monitored, and access to the premises of data centers is tightly restricted. Highly experienced staff maintain these infrastructures, processes are controlled and there are always many eyes on these systems. This makes it extremely difficult for your data to be breached or stolen by someone outside of your company. By using a managed cloud supplier, gone are the days of worrying about your company's security procedures. You can relax knowing your data is in secure, reliable hands.
Reduced costs
Another benefit of a managed cloud is the reduced business expenses it brings. Attempting to establish and run a data center requires a lot of employee time and can be extremely expensive. You have to make sure you purchase the right equipment and pay IT resources to install and manage the servers. When you shift to managed cloud computing, these responsibilities are passed on to your provider. This allows your company to pay for the resource usage you need while taking advantage of scale and reliability, two things that most companies cannot afford internally. And all software updates are completed for you automatically, eliminating the need to perform them using your own resources.
And, since cloud services operate on a subscription model, where your cost is based on usage over time, the risk of spending all your budget at once is eliminated. The money and time you save allows you to focus on growing your business instead of focusing on your IT footprint.
The DocXellent Managed Cloud
Our document control and quality management software, ENSUR, is available in the highly secure, validated, GxP and 21 CFR Part 11 compliant environment, DocXellent Managed Cloud (DMC). DMC is a collection of cloud hosting services provided by DocXellent which houses the audit-ready IT infrastructure that is ENSUR Cloud.
The DMC hosted ENSUR software is a complete solution that provides you with a fully managed application environment where hosting, application maintenance and technical support is handled quickly and efficiently by our outstanding team of technical support professionals. Whether you require an audit-ready cloud solution or not, ENSUR Cloud is a secure, scalable and cost-effective option for your document management needs.
Contact us to set up a consultation to scope out an ENSUR Cloud or DMC solution for your GxP and 21 CFR Part 11 applications today!