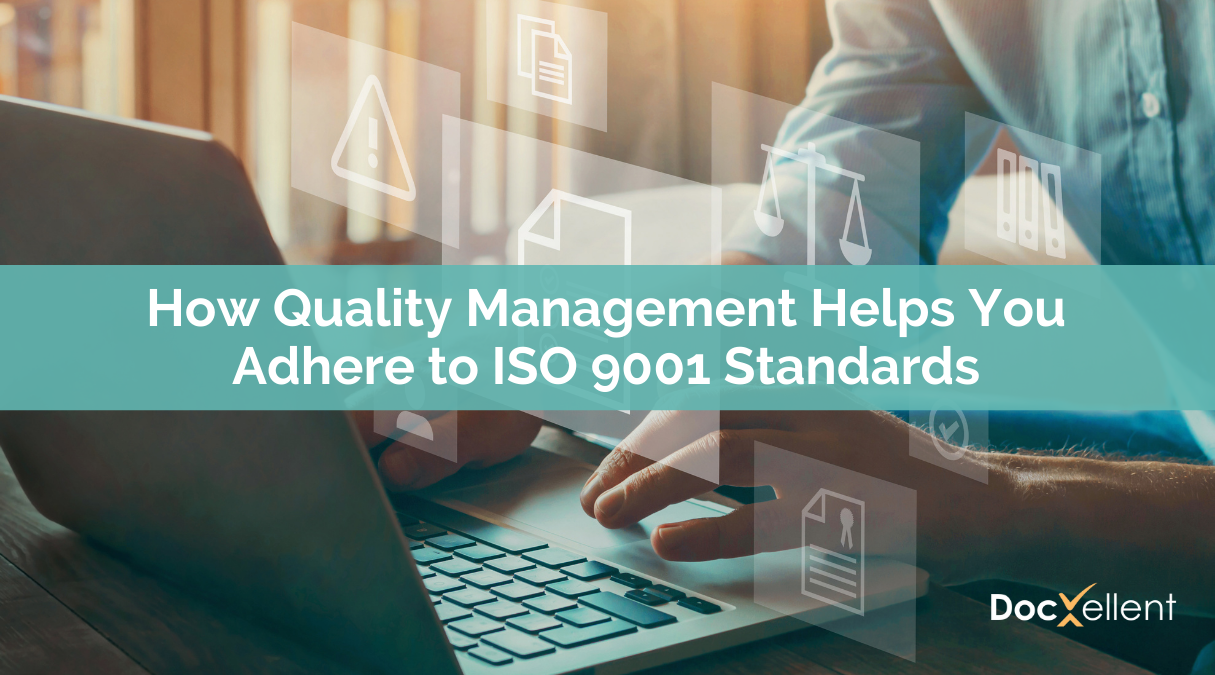 With consumers placing an increasingly large emphasis on product quality, meeting regulatory standards like ISO 9001 is more important than ever. To keep up with the ISO 9001 group of standards, many companies find a digital quality management system (QMS) to be a necessity. In this article, we'll take a closer look at ISO and how a QMS improves ISO 9001 management by reducing the cost of quality, reducing human error, establishing product consistency, streamlining your workflows, and meeting compliance standards.
What is ISO 9001?
ISO standards are regulations upheld by the International Organization for Standardization. They cover a range of business concerns, from business continuity, information security, risk management, etc. However, ISO 9001 specifically outlines quality management system standards for quality assurance, meeting customer needs, and overall customer satisfaction.
There are eight fundamental principles of quality management at the center of the ISO 9001:
Customer focus
ISO 9001 evaluates an organization's objectives and initiatives to meet customer requirements and exceed customer expectations.


Leadership
Companies should have an established vision for the business and the right leaders in place to promote that vision to the rest of the team.


Team involvement
It's important to make sure that your team is motivated and engaged, understand the importance of their role and how it fits into wider company objectives, as well as takes responsibility for any problems that might impede them from doing their job to the best of their abilities.


Process approach
To provide a quality product, your team needs to follow their outlined task list in sequence until they've achieved the company's desired outcome. This can help you avoid logistical issues and future-proof your business.


A systematic approach to management
Like the process approach, this principle states that ensuring your team members are dedicating the right amount of attention to key tasks, you'll eliminate wasted time and make your business more efficient.


Continual improvement
Continual progress is a permanent goal of any successful organization. A business should always be pushing for improvements so they don't fall behind the competition.


Factual Approach to Decision Making
This principle states that effective decisions are made based on rational analysis of data. Before making any business decisions make sure that you have all the facts.


Relationship Management
To successfully deliver a quality product to your customers and ensure the continuity of the supply chain, you need to establish relationships

with relevant partners, including business associates, vendors, investors, and resellers.

What is a Quality Management System?
A quality management system is a collection of business functions that work to continuously improve your company's quality, guarantee customer expectations are met, and ensure compliance. The primary purpose of this software is to ensure your company is meeting customer and regulatory requirements and providing consistent products or services throughout your organization.
With a digital QMS in place, managing your ISO 9001 compliance can be simple. Here's how:
5 Ways that a QMS Improves ISO 9001 Management
Reduce the cost of quality
Transferring your business information and remaining compliant with industry standards can seem difficult and costly. However, a QMS can actually reduce your company's quality costs while keeping you in line with ISO 9001 requirements using a few different features:
QMS reports provide live metrics and real-time company data, allowing managers to pinpoint areas of your production and quality process that are inefficient
Periodic review cycles automate the routine evaluation of your internal documentation, allowing your quality managers to easily audit and evaluate your quality system for regulatory conformance
Electronic CAPA forms assure the quality of your products and offer root cause analysis for continual improvement
Employee training enforces the reading and comprehension of documents, to guarantee the quality policy is understood and followed at all levels and by all employees
Using these capabilities, your quality process is set up to easily identify inefficient areas and reduce wasteful production errors. And by lowering instances of poor-quality outputs, your company's overall cost of quality will be reduced right along with it.
Establish consistency
A major part of meeting ISO standards is delivering a quality product that meets your customers' expectations. This means you need to reliably manufacture products that meet every quality objective your company has in place. The key to achieving this is establishing consistency throughout your supply chain processes.
Because implementing a QMS requires companies to define and describe the best practices for all business responsibilities, consistency and quality are foundational components of Quality Management Systems. When a QMS is implemented, your company is required to outline specific standard operating procedures (SOPs), minimizing the risks of nonconformance and maximizing efficiency. Further, because a QMS is a centralized database available to your team from anywhere at any time, your employees can align their efforts throughout the supply chain and work toward common quality goals, making it simple to meet customer expectations and deliver a consistently high-quality product.
Reduce human error
While some instances of human error are unavoidable, ISO 9001 expects companies to limit these occurrences as much as possible. Section 8.5.1 under the ISO 9001:2015 umbrella of standards states: "The organization shall implement production and service provision under controlled conditions. Controlled conditions shall include, as applicable: … the implementation of actions to prevent human error". Luckily, there are tools and procedures within a QMS to help minimize human error events and make adhering to ISO standards easier.
With a traditional quality system, employees are collecting information on paper and then transferring this data into an electronic document management system. This process can quickly become riddled with human error. A QMS eliminates the need for paper data entry and turns a two-step process into one simple step. Workers can collect data on a convenient electronic device in real-time and diminish the risk of common transfer errors.
A QMS can reduce both the frequency and the severity of human errors using the following capabilities:
Documents can be drafted, approved, and controlled within the QMS software where there is a complete document history of who did what and when to every document
Document procedures for dealing with actual and potential non-conformances with electronic NCR forms and reportable action items for employees
Under a quality management system, each employee works towards measurable objectives. Human errors are diminished, and workers have a straightforward idea of what their quality objectives are, ensuring that the organization complies with this section of ISO 9001:2015.
Continuously improve your processes
As mentioned above, focusing on continuous improvement is one of the eight fundamental principles of quality management that are at the center of the ISO 9001. Prioritizing this process and implementing it into your permanent business goals can have lasting benefits to the organization such as stronger performance, strategic market placement, increased efficiency, and team engagement. And, by constantly striving for higher quality processes, you can ensure that portion of meeting ISO 9001 is covered.
With a QMS, continuous improvement becomes a primary objective for every member of your team. Firstly, the SOPs your company creates and stores within your system support the use of regular audits of the QMS framework, ensuring continuous progress toward increased quality. Further, these systems offer comprehensive training. By thoroughly training every member of your organization on your product line and processes, you can create an underlying progression of problem solving and innovation. Continual improvement becomes engrained in your company's culture rather than a separate time-consuming process.
Meet compliance standards
The most important function of a QMS is its ability to help your organization meet compliance standards. The process of tracking and adhering to ISO requirements can be overwhelming for an organization that does not have a quality management system in place. By implementing a QMS, your organization will have the necessary tools to meet ISO 9001 certification requirements using the following features:
Internally audit your organization's compliance through electronic forms where data can be extracted for reporting purposes, including action items and periodic reviews
Address past problems and potential business problems with incident tracking forms that can be generated and electronically submitted for completion
Demonstrate how and where raw materials and products were processed to allow products and problems to be traced to the source through electronic binder and BOM templates; these allow documents to be linked together in order to produce a "where used" lookup
Prove employee comprehension of quality procedures with fully reportable training records
Adhering to quality management principles will produce better quality products and more satisfied customers, improving your business practices tremendously. And to do so effectively, implementing a QMS is essential. It will help save your business from the risk of human error, reduce quality costs, and ensure you meet the quality standards required of your industry.
Check out our other resources on meeting ISO standards with Quality Management:
If your company is looking to become ISO 9001 Certified and keep up with industry standards, a QMS is vital. Contact us today to learn about DocXellent's Quality Management Software, ENSUR.