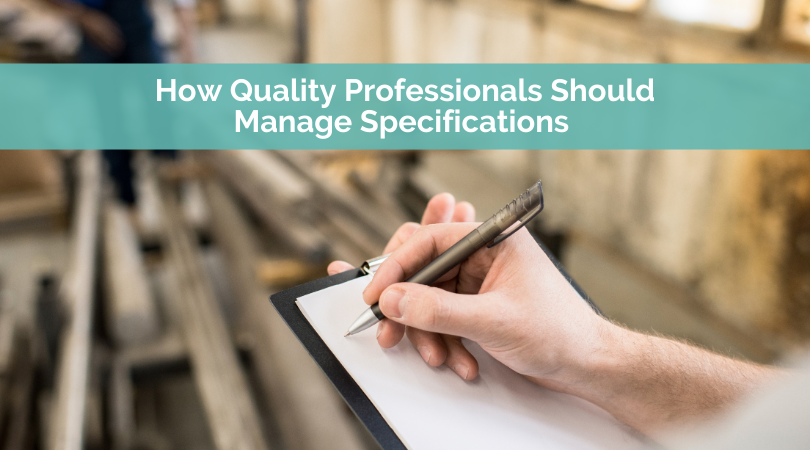 Quality professionals are tasked with verifying the quality of their company's products and ensuring processes meet regulatory compliance. There are many moving parts in a supply chain and enforcing your quality standards throughout every step of the process is challenging. Moreover, performing root cause analysis of quality incidents is highly inefficient without a centralized system to track them. In this article we'll explain how quality professionals should manage specifications to have a proactive position on quality incidents and ever changing regulatory standards. Read on to learn more.
Ensure Specifications are Accurate and Up to Date
Quality professionals must keep up with ever-changing product standards. In addition, most production methods include various workflows and approval processes that work to maintain the quality of the products being developed. With all these moving parts, it's easy to lose track of which specifications are up to date if your company is using Word, PDF, Excel, file shares and email to manage them. These manual methods can lead to employees working from the wrong specs, resulting in rework, wasted materials, sub-par products and potential unhappy customers.
The best practice for quality professionals to ensure product specifications are up to standard is to centralize the quality specification management process into one system where you can structure your data and gain visibility across the supply chain. Quality managers should utilize a Specification Management System to realize the following quality benefits:
Create Specifications: Create specs with electronic forms where you can structure your data with controlled, approved values.
Control Revisions: Revise specs in a streamlined platform that controls and distributes new versions, minimizing the risk of working from the wrong file and causing an Out-Of-Specification (OOS).
Security: Security model that supports control over who can do what, to which content (Common Specs v. SKUs v. BOMs v. Drawings).
Master Specs: Manage the generic spec for various components and propagate W&D, materials, etc. to the individual specs, where master data will not be editable at the specification level.
Notifications: Automated email notifications to suppliers and stakeholders when specs and docs become effective. Contract manufacturers can easily receive updated critical documents when issues arise during technical transfer between different sites.
Supplier Specification Management: Collaborate with suppliers on specs in a controlled environment and manage which suppliers have access to specific documents.
Tying Your Quality Processes Together Throughout the Supply Chain
An overarching goal of quality managers is to embed your practices throughout the supply chain and create a culture of quality. This can be difficult to accomplish with employees in multiple locations across the globe and a changing list of suppliers and contract manufacturers. Quality professionals should utilize a specification management system to tie the pieces of your quality program together throughout every step of the manufacturing process.
If your company receives a customer complaint or faces a non-conformance, the first question you may ask is what happened along the production line to cause this incident? An SMS allows you to link to a quality specification, drawing, or image within the system to reference quality incidents, helping you tie together the cause and effect of every mistake made. Rather than quality and manufacturing professionals working entirely separate from each other, spec systems help keep the line of communication open. This prevents more serious quality issues down the line and makes your quality process more cohesive.
The type of quality processes that can be linked to specifications in a SMS include but are not limited to:
Incidents/Complaints
Non-conformances
CAPAs
COAs
SCARs
With these processes linked throughout your manufacturing chain, quality managers can effectively create a more efficient and proactive quality process, saving you time and potential headaches in the future.
Keeping Up with Regulations
Whether your company adheres to FDA 21 CFR Part 11, ISO 9001, etc., regulatory standards are often changing. In many industries, in order to follow industry standards, products need to be stored, filled, sealed, and labeled under precise conditions that ensure the product's integrity. This means that even one small complication along the product pipeline could land your company costly regulatory fines.
A spec management system creates a single source of truth for your product data by offering visibility into quality specifications and related documents across your entire product line. You can easily track who oversees a spec, where it is in its lifecycle, who's accessed it, who's printed it, and who is responsible for maintaining and seeing it move into production. This will help you guarantee that the highest quality business processes are being followed to ensure you are meeting regulatory requirements.
Quality professionals should use a specification management system to comply with the following FDA and ISO standards and regulations:
Show how and where raw materials and products were processed to allow products and problems to be traced to the source.
Ensure quality policies are understood and followed at all levels and by all employees. Each employee works towards measurable objectives.
Create systems for communicating with customers about product information, inquiries, contracts, orders, feedback, and complaints.
Document procedures for dealing with actual and potential non-conformances (problems involving suppliers, customers, or internal problems).
Maintain procedures to identify and track products from the conceptual stage all the way through to its realization
Document complaint handling procedures for timely handling in accordance with applicable regulatory requirements.
Maintain procedures to control products that do not conform to specified requirements and for implementing corrective and preventive action.
Use of secure, computer-generated, time-stamped audit trails to independently record the date and time of operator entries and actions that create, modify, or delete electronic records.
Limiting system access to authorized individuals.
By utilizing an SMS, quality professionals can easily meet and keep track of regulation data. These systems allow you to create your own electronic forms where you can structure data, control inputs, and easily align your different departments on standards to ensure quality and compliance. In addition, a validated specification management system guarantees your organization will respond with confidence to any regulatory body in an audit.
When you want to streamline your specification management and create a more cohesive quality process, you can depend on the ENSUR Specification Management Software. To learn more about how an SMS can benefit your quality control efforts, contact us now.