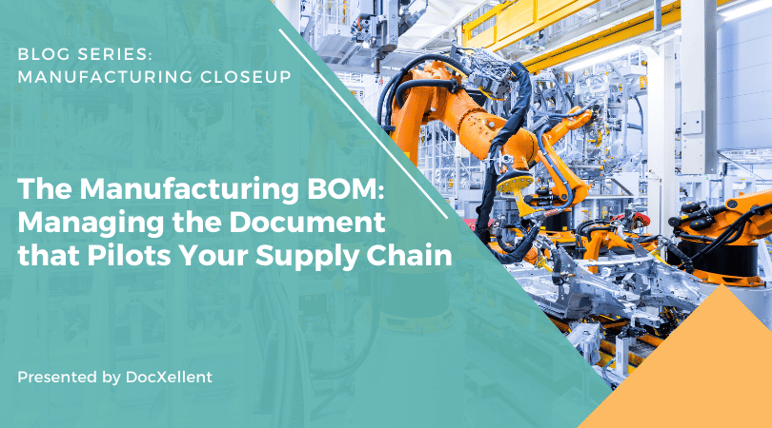 In the previous blog in our Manufacturing Closeup series, we defined the DMS (Document Management System) as the solution to help your company manage and control document content integrity. The next step in analyzing the benefits a DMS brings to the manufacturing process is to address the Bill of Materials (BOM). Managing BOM content is vital for manufacturing companies to ensure every component of the supply chain contains current and correct process information. The industry has a coined phrase: "The BOM is the Bill That Reduces All Others!" So how (and more specifically – where) do we ensure the BOM is maintained with accuracy?
Can You Accept the Impact of BOM Redundancy?
With the BOM recognized as such a vital document, let's do a soft study on MRP (Material Requirements Planning) software as it relates to BOM documentation, and how to avoid redundancy:
The BOM structure and its content typically originates in design drawings but can also be a standalone document.
It has version control because it contains the driving information and structure for most, if not all, remaining documents created for the purpose of manufacturing and inspecting your products.
These BOM documents are used as a guideline for creating Master BOMs in MRP, and the Master BOMs in MRP comprise the raw materials, parts, sub-assemblies, and final assemblies used to match against your inventory for requirements planning.
The output of executed MRP algorithms (when the Planner "runs MRP") produce, among other things, the shortage of supply (resources) that must be filled to meet demand.
To perform this feat of digital auto-magic with accuracy, the BOM version(s) in MRP must match with BOM documentation, so the potential of redundancy in data between the BOM documents and the MRP BOMs is obvious. Be sure to ask yourself these questions to gauge how well your data matches up:
How many products do you produce with the various associated parts and raw materials?
Would you say it's a high expectation (even with rigid change control) for your people to maintain accuracy between multiple systems?
For some companies, the BOM is an isolated "controlled" document in 8 or more different systems. Worse than the cost of errors, and waste of forever reconciliation, separately maintaining the BOM in various systems allows for diverging requirements.
The Importance of Integrating Data Between MRP, SCM, and Inventory Control Systems
Today's manufacturing companies have many software options available for MRP, inventory control, and SCM (Supply Chain Management). These tools can be great as stand-alone applications but multiple databases containing duplicate/similar data without proper integration can result in compounded issues that far out-weight the benefits of the individual solutions. To achieve true and lasting benefit we must integrate the data between systems. The process of integrating data between manufacturing systems consists of:
Identifying the governing source (database) of information.
Data can then be properly pushed (or pulled) as normalized data to all other related data systems.
Without data integration, redundant data entry will be required by users to keep all systems in sync. Redundant data entry is administratively inefficient, creating confusion and propagating errors. Data integration between systems is achieved through standard or custom API (Application Programming Interface). We will discuss more details about integration with APIs in a future Manufacturing Closeup post.
The Best Way to Manage Your BOM
The best way to achieve accurate BOM documentation is by implementing a strong Document Management System (DMS). The data structure of your DMS should be capable of creating and managing the relational hierarchy between raw materials, parts, sub-assemblies, and final assemblies that comprise your BOMs, and should include an API capable of facilitating integration across multiple software solutions.
Stay tuned for next month's manufacturing closeup as we explore the various ways a DMS can bring traceability to your manufacturing processes. Subscribe in the right sidebar to receive updates.