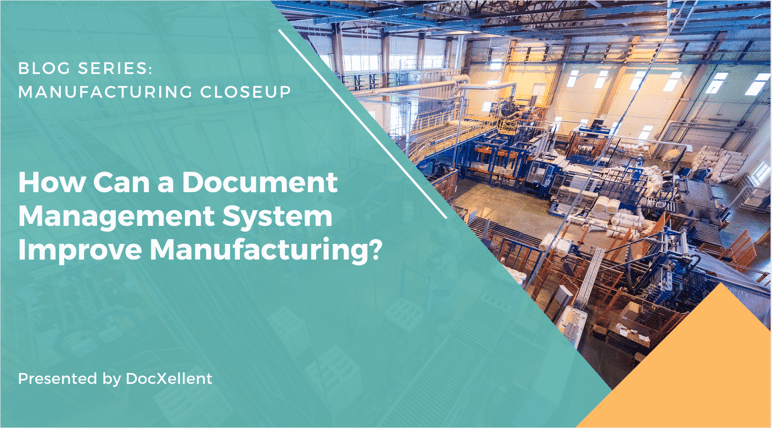 Manufacturing companies are challenged with tracking product data, customer feedback, and engineering changes, all while maintaining their company's reputation for quality and swift distribution of product. That's why we want to share how you can improve the efficiency of this process by centralizing it with a Document Management System (DMS).
This will be the first blog in a manufacturing closeup series where we'll deep dive into the various ways a DMS can optimize the manufacturing process. To kick off the series, we'll be examining how a DMS works to improve the workflow of various manufacturing documents. Namely, we'll discuss how you can effectively streamline your sub-assembly revisions and BOMS to generate transparency, easily identify impacted parts, and avoid non-conformance.
A Solution for Managing All of Your Manufacturing Documents
When investing in a Document Management Solution, it is vital for the document control software you choose to digitally manage all documents that touch every aspect of your manufacturing process. Version and signature control are but a small slice of the whole pie. The documents needed to progress through manufacturing include, but are not limited to:
Product Requirements Document (PRD)
Bill of Materials (BOM)
Controlled Drawings
Pre-planned process documents such as Travelers, Testing Plans/Procedures, QC Inspection Reports, etc.
How manufacturing documents are stitched together within the database, and the logic of Parent to Child relationships should be determined based on your company's Change Control and Non-Conformance policy, then built into the workflow logic of the DMS. Let's take a closer look.
Streamline Your Sub-assembly Revisions and BOMS
Your interest in this post likely means you're a manufacturer and utilize (or at least understand) multi-level BOMs. Depending on your engineering configuration, BOMs are either contained on drawings, or are a separate controlled document related to drawings. You may have a BOM on drawings, but also have a related BOM with added detail as a standalone document, or in your MRP. 
If you are managing your design and fabrication drawings in a CAD system such as Solid Works or AutoCAD, drawings with BOMs are a great example of the Parent/Child relationship utilized in a Document Management System. Assembly drawings gather multiple parts (and/or sub-assemblies), and the parts, if not additional pages to the assembly drawing, are represented by separate drawings. In a DMS, all of these items are related to form a hierarchy. The assembly drawing is the Parent document, and the part drawings are Child documents. A DMS enables you to have logic in place where, if a part in an assembly is revised, the parent(s) are locked and/or red flags go off to review the impact on the assembly.
Prevent Human Error with Template Management
Within a DMS, managing the relationship between the Parent and Child can be facilitated with record replication and inheritance through Template management. The use of Templates can be applied to BOMs, Change Orders, Change Requests, CARs, Training, QC Inspections, etc. Templates ensure your organization is always using the right version of the Master Document. This will streamline operations, improve manufacturing efficiencies, and positively impact the storing and retrieval of completed documentation.  
Does your company have a Document Management  Solution, or just a Document Control software process?
Check out our other resources on this topic:
Stay tuned for next month's manufacturing closeup as we explore the BOM. Knowledgeable manufacturers honor the BOM as a key document to be controlled. If your company maintains an MRP, you know this to be so, because it defines the products your company makes, and governs the requirements for supply chain management from take-off to final product.  Subscribe in the right sidebar to receive updates.