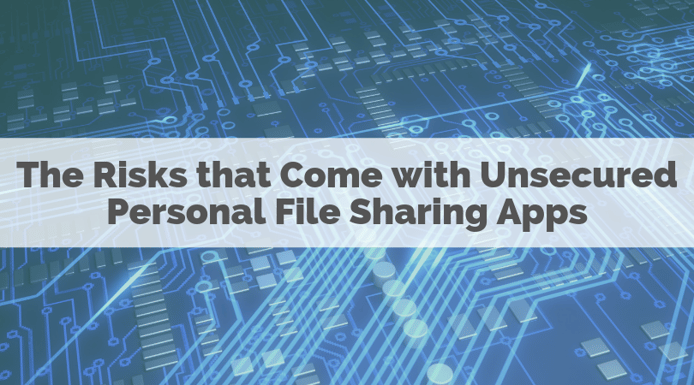 Many organizations opt to keep their documents organized by using file sharing apps. However, using these systems comes with serious security risks. Hackers and other cyber crooks are always looking for the weak spot in any network security system. They are constantly probing and testing antivirus software or going on phishing missions looking for victims. It is important for companies to know the truth about how these file-sharing apps really work in order to avoid data security nightmares.
What is unsecured file sharing?
Before we discuss how to minimize the risks that come with file-sharing apps, let's get a thorough understanding of what they are. Unsecured file-sharing involves using peer-to-peer (P2P) technology that allows files to be shared between users over an internet connection. This process generally includes the creation, editing, and storage of both documents and spreadsheets. And while these applications often seem like a safe place to collaborate on business documents, many companies do not actually see how unsecure they are. According to a study done by the Ponemon Institute and Intralinks, 77% of organizations do not have a secure means for their employees to share or access documents, and 85% of those organizations use unsecure file-sharing tools. And unfortunately, the most at risk information has been proven to be both customer and employee data. In order to move your company forward and keep your information safe, leaders at organizations need to provide secure solutions to reduce the risk of unsecure file-sharing by employees, create and enforce security polices, and regularly educate employees on these risks.
What risks do unsecured file-sharing technology introduce?
How exactly do these file-sharing apps cause security concerns? To begin with, many companies that use these applications do not enforce any sort of file-sharing policy. Add to that, there aren't any built-in safeguards around file security, file locations or version control. These issues, coupled with a lack of knowledge on the employees' end about security dangers, leads to a huge security risk. With very little effort, strangers could have access to private company and employee information. To prevent a cyber-attack, your company needs to standardize cloud storage and regularly upkeep it to maintain a secure document storage center.
Another cause of concern when using these apps is the possibility of malware. Unfortunately, files containing malicious software are easily spread on a P2P file-sharing network. These files are often disguised as important documents, and once you have downloaded them on your computer, any information stored there is at risk. Even further, it is possible for an employee to inadvertently spread these viruses to other computers that they are sharing a file with, possibly corrupting hundreds of computers within your company in seconds.
Given the gravity of these consequences, it is important to find an alternative to these unsecure file-sharing applications. What appears fail-safe and free could really be a ticking time bomb – and it could go off before you know it.
How can you minimize these risks?

Using a comprehensive document management software (DMS), can help minimize the risks that come with using file-sharing applications. By implementing a DMS, your company will have a streamlined, highly secure document storage system with scalable storage space and a much wider range of features and capabilities.
Additionally, DMS providers prioritize cyber security and the protection of user data and intellectual property. A reputable document management company will have many procedures in place to protect system data, including:
Testing for vulnerabilities using a code scanning tool
Constantly updating the software if any new vulnerabilities are found
Continuously monitoring public facing websites/applications with Anti-Intrusion/Anti-malware scans
Unlike file-sharing apps, DocXellent's document management software, ENSUR, has many built-in safeguards that protect our users from potential online threats. Through the use of electronic signatures, multi-factor password authentication, the ability to set extensive password requirements for users, and single sign-on, you do not need to worry if your information is being compromised by malicious software or if strangers are able to access it. You can rest easy knowing your confidential data is safe and secure.
To learn more about how to reduce security risk in your company's document storage and sharing processes by using a document management system, contact us today.