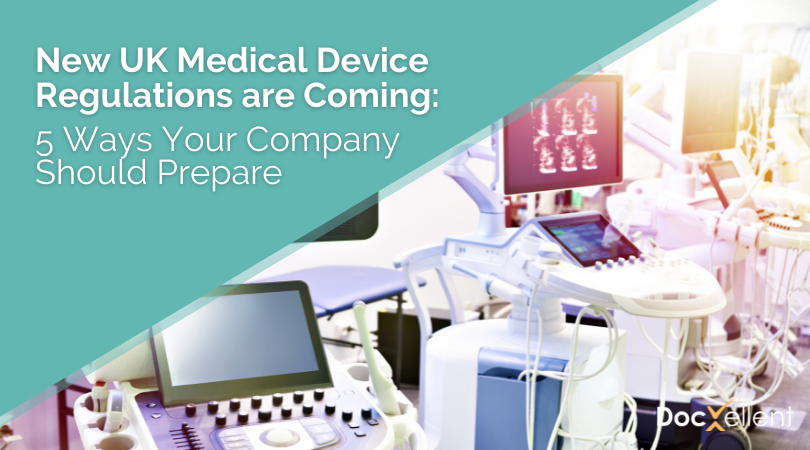 Over the next couple of months, the United Kingdom's Medicines and Healthcare products Regulatory Agency (MHRA) is expected to roll out new guidance that will alter the way medical device products are regulated. Preparing for this change may be daunting, but there are some simple ways your company can brace for these modifications. In this article, we'll discuss what these regulations include and outline five tips to help your company prepare your operations. Read on to learn more.
Breaking Down the UK Medical Device Regulations
The Medicines and Healthcare products Regulatory Agency (MHRA) is responsible for regulating the UK medical devices market. Generally, this guidance provides information for companies in the UK for getting your device certified, conformity marking your device, and registering your device with the MHRA.
Under the recently introduced regulations, a medical device company doing business in the EU and the UK will now have to deal with a notified body, approved body, and, for companies outside of the UK, a UK Responsible Person. Here's what each of those roles mean:

These regulations trickle down into every medical device business process, including packaging, labeling, and post-market surveillance. To help your company get ahead of these new expectations, let's look at five ways to prepare.
How Should Your Company Prepare?
1. Update your document control system
The first step to ensuring you meet these new regulations is to update your document control system and processes. Strong document control means strong collaboration, both throughout your organization and to external bodies. These systems offer an open stream of communication and act as a centralized platform for managing your critical business documents, actively increasing transparency throughout your entire supply chain.
Therefore, with the new MHRA guidelines requiring regular communication with your UK Responsible Person as well as approved and notified bodies, it's important to keep your software up to date and as functional as possible. Don't let an out-of-date document control method stop your company from meeting necessary regulations.
2. Evaluate your quality processes
Similarly, it's important to prioritize your quality processes when facing these regulatory changes. As with any type of governing body, the MHRA prioritizes product conformity. And under these new regulations, your approved and notified body's role will be to make sure your products fulfill all requirements under law and there's uniformity across your company's product lines.With an effective and up-to-date quality management software, you'll have the ability to plan, implement, and improve upon your quality processes all within one system. Quality control management ensures that what your company delivers, and the delivery processes it uses, are cohesive and that every business phase of the organization focuses on the same goal. With cohesive processes and aligned company goals, you set your company up for regulatory success.
3. Classify roles and responsibilities
Next, it's necessary to ensure your employee roles and responsibilities are outlined and communicated. This step prioritizes company-wide communication, ensuring that everyone in your organization is on the same page. Make sure your team knows what these new regulations entail and lay out how their job responsibilities will fulfill the new MHRA expectations. If your employees know how their efforts contribute toward a common goal, they will be more well-informed and motivated.
Additionally, depending on your company, this process may not stop at just internal roles. Try reaching out to your suppliers and economic partners to make sure they're also aware of these governing changes and educate them on their piece of the regulatory puzzle. Creating a unified team can make your company impenetrable when it comes to meeting these new guidelines.
4. Keep digitization top of mind
Digitizing your processes can also benefit your regulatory goals. As we've discussed in previous blog posts, digitizing and automating your supply chain leads to increased efficiency and reduces instances of human error. With traditional, manual business processes, employees are collecting information on paper and generally communicating through email. A digital process eliminates the need for paper data entry and turns a two-step process into one simple step. Workers can collect data on an electronic device in real time and diminish the risk of common transfer errors.
Additionally, with a digitized process, each employee works towards measurable objectives. Human errors are diminished, and workers have a straightforward idea of what their quality goals are on a daily basis, creating a uniform product and ensuring that your organization stays in good graces with the MHRA.
5. Perform an internal audit
The final piece of advice for preparing for these new regulations comes in the form of an internal audit or gap assessment. The overarching goal of an internal audit is to ensure that your company's quality procedures are being followed and to alert you of any holes in policy compliance. If your company is trying to brace its processes for what's coming, an audit of your quality methods will help definitively identify any gaps between what your company is already doing and what the UK now requires. This allows you to focus on high-risk areas of your supply chain and accelerate your compliance, rather than reworking everything.
The changes brought about by these new MHRA regulations will be significant. Medical device manufacturers need to be proactive and ensure their processes are up to the task of conforming to them. Fully understanding the new laws and keeping up with your document control processes, quality management, employee roles, digitization, and internal auditing will make the difference between compliance and regulatory failure.
If your company is having issues preparing for the new regulatory laws that the MHRA has brought upon the medical device industry, we can help. Contact us today to see how our ENSUR Document Control System can make sure you avoid regulatory issues in the coming months and years as these regulations are realized.