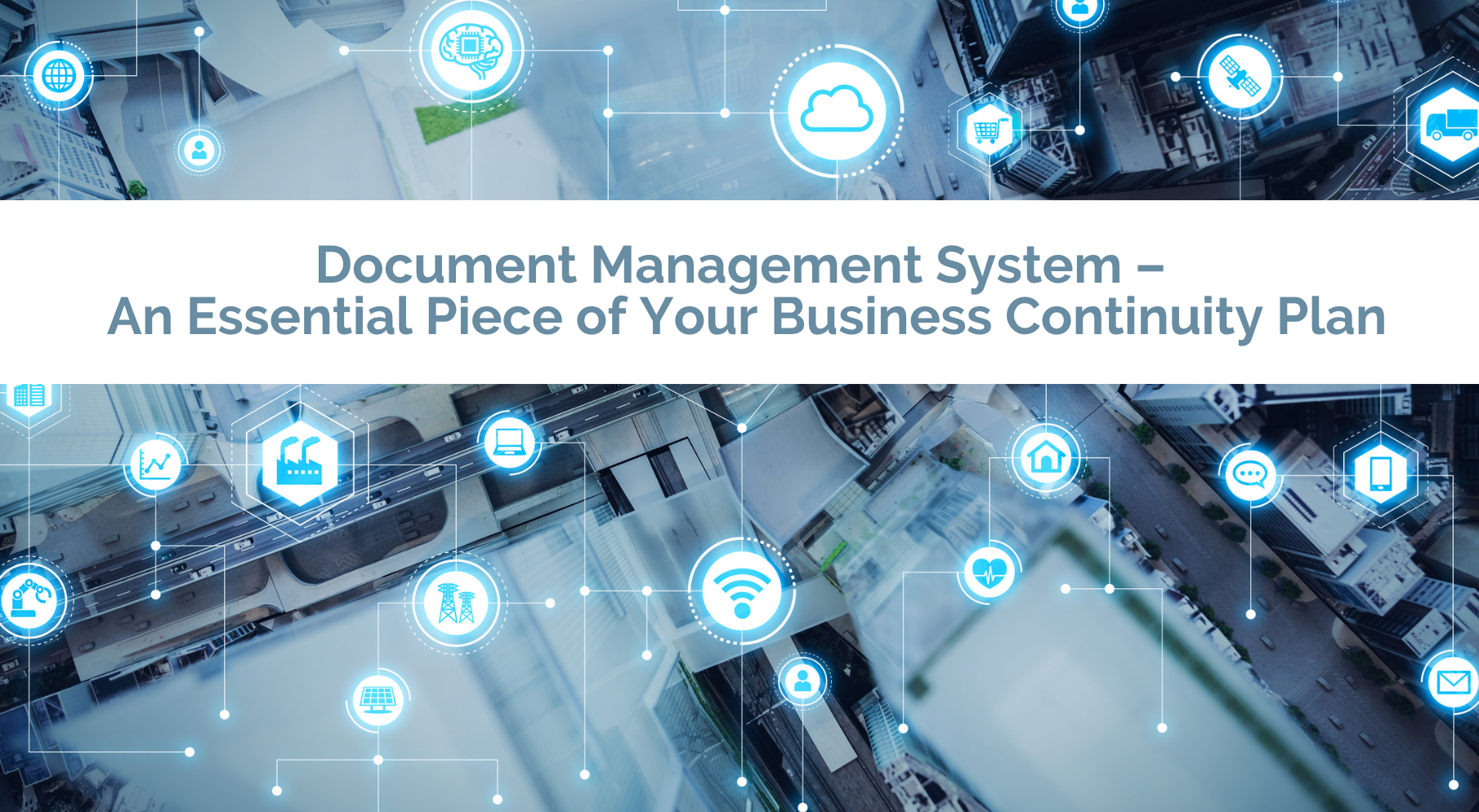 Dealing with documentation is an essential part of every business' processes. However, managing business information, sometimes from several sources, can be a challenging task – especially in these unprecedented times where employees are forced to work from home. This is why a cloud-based document management system (DMS) that captures, stores, and retrieves both paper and electronic documents can provide many key business continuity benefits to your organization. Read on to see exactly how a DMS can improve your company's efficiency, cybersecurity, and disaster recovery during the COVID-19 crisis using the business continuity progression shown below.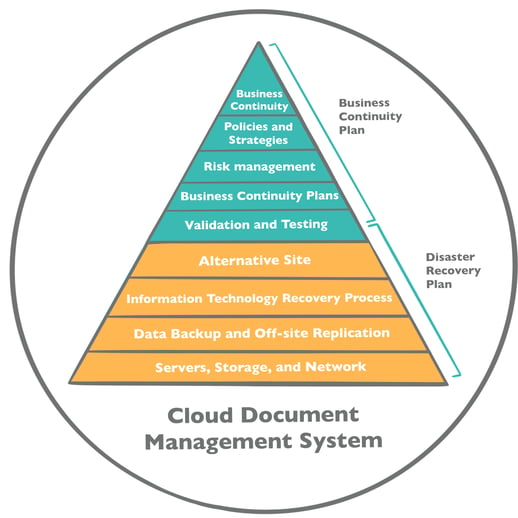 Cloud DMS Business Continuity & Disaster Recovery Benefits
Disaster Recovery
Cloud-based storage using a DMS enables you to backup and restore your business-critical files in case they are compromised. Thanks to its flexibility, the cloud technology enables efficient disaster recovery, regardless of the type or intensity of workloads. The data is stored in a secured cloud environment designed to provide high availability. The service is available on-demand, which enables organizations of different sizes to tailor business continuity solutions to their needs. And to take it one step further, cloud document management systems prevent data loss risk within the system by holding documents to primary and backup storage folders that assist in disaster recovery processes. Much like the conventional back up process of saving duplicate documents in separate locations, DMS solutions do this automatically, removing the risk of human error.
And, as opposed to traditional solutions, cloud-based disaster recovery is easy to set up and manage. Businesses no longer need to waste hours on transferring backup data from their in-house servers recover after a disaster. The cloud automates these processes, ensuring fast and error-free data recovery. During these unprecedented times where many people are relying on accessing data from home in order to get their work done, the cloud can ensure that your employees can access whatever information they may need to, regardless of unforeseen circumstances.
Improved Safety and Security
Another important benefit of using a document management system is the increased document safety levels it allows. Because A DMS provides better control over sensitive documents, access to documents can be controlled at the folder level for different groups or individuals. This ensures that private information will not be seen by the wrong people. Also, a DMS leaves an audit trail of who has viewed a document, when it was accessed, and how it may have been modified. As a result, managed documents are highly traceable and can be tagged to allow for automated alerts.
A document management system also allows your company heightened cyber-security precautions. Some people feel that their data is better protected within their own servers. However, your information is actually safer in a cloud-based system because of the complexity and depth of protections within a cloud DMS, combined with the logging and monitoring tools that are always on-duty protecting your data. Think about the cloud server concept as a digital realm in which every device is connected to the internet, allowing easy access to any application at any time. A cloud server runs from a dedicated server that supports a multitude of virtual servers. And, a managed cloud software system is lock-down secure—accessible only through robust layers of the latest security technology, and only by the users you authorize. This extra level of security allows you to rest easy knowing your information is always protected.
Lastly, a DMS increases your document security practices by reducing the need for email during the document management workflow. The transfer of large and sensitive documents, particularly via email, can be a significant cyber risk for any business. Emails in transit can be an easier point of entry for hackers and interceptors. Document management systems reduce the need to distribute files via email as they allow users to share directly from the system interface. All-in-all, switching from a manual management system to a digital one will keep your documents safe from cyber threats and will mitigate any threats your company may face.
Document Control and Workflow
The ability to collaborate on and share your documents will also be greatly enhanced through the use of a DMS, creating a more efficient business workflow. While your company is adjusting to social distancing guidelines due to the COVID-19 pandemic and your employees are primarily working from home, streamlined collaboration becomes especially important in your business practices. With a DMS, your employees can access any document from anywhere at any time. This ease of accessibility allows your customers to work on or view your most important systems from any device. A recent survey by Frost & Sullivan showed that companies investing in collaboration technologies increased productivity by as much as 400%. When you eliminate the time-consuming and often unsecure process of sending files back and forth over email, you create a more streamlined process. A more efficient document workflow that enables employees to access files from one central location ultimately leads to an improved business bottom line and allows your company to continue business as usual during COVID-19.
Even further, a DMS allows your company to more closely manage your business continuity plan, policies, and procedures than a manual system would. Using custom approval workflows, your document routing processes are completely automated, allowing for the collection of stakeholders' e-signatures no matter their physical location. And, if you have documents you need your employees to train on, you can quickly define training requirements based on job title, manage rosters, test comprehension and track the results of training events all within the system. You even have the ability to publish your policies and procedures to your company's intranet, allowing these documents to reach partners outside of your DMS. By streamlining your entire document control process, you can create a more efficient and accurate workflow process, even under the stresses that social distancing may bring your company.
How DocXellent Can Help
Our document management software, ENSUR, is user-friendly and easily configurable to fit your unique business cases. Using a cloud DMS like ENSUR during these unique and trying times can improve your business continuity by providing stronger cyber-security, disaster recovery, and allowing more accessibility and control over your documentation. Instead of having difficulties maintaining business as usual during unforeseen circumstances, your company will be able to continue conducting business as efficiently as you always have, if not more.
We proudly offer unparalleled customer service to help you and your team integrate ENSUR into your organization quickly. Contact us for a demo or for more information about our ENSUR Document Management Software and DocXellent Managed Cloud solutions to increase your company's efficiency and improve your business continuity process.