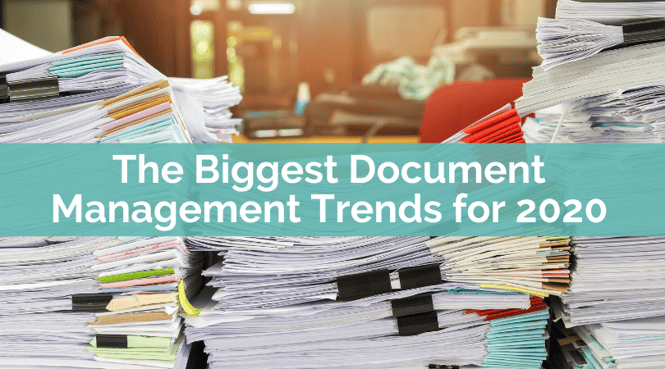 Over the last few years companies across the globe have begun moving away from paper documents and are opting for digital document control systems. Document management has always been key to business operations, but current methods differ greatly from those of even ten or twenty years ago. Document management software has taken the lead, and if your company has not started making the switch, you are already behind the competition.
Along with the growing use of these systems, certain trends have emerged in the document control world, many of which have the potential to change the digital environment forever. Let's look at a few of them now.
Growth of Cloud storage
Cloud computing has revolutionized software and has had a huge impact on document management systems, and it is not going anywhere. With cloud computing, you do not need to be on a certain computer or have access to a closed network in order to retrieve your files; all you need is an internet connection. The cloud ensures that documents are available at anytime from anywhere. According to a study conducted by McAfee, 87% of companies experience business acceleration from their use of cloud services. And, organizations are over 35% more likely to launch new products, speed up their time to market, and expand to new markets when they use a cloud computing service.
Additionally, if your organization adheres to government regulations, you can find systems that are hosted in a validated, GxP, 21 CFR Part 11 and Annex 11 compliant cloud environment. And, because the host of your cloud data is responsible for protecting against loss of data or productivity, the threat of risk is eliminated. There is no need to recruit your IT staff to manage your data, your cloud provider is fully responsible for availability, accessibility, backups, disaster recovery, and server maintenance. Cloud storage is still evolving and continues to create an easier and more accessible data management process; due to their growing popularity, these technologies are not going anywhere anytime soon.
Online security
In direct correlation with the growth of cloud storage has come an increase in document security. Because of the massive growth in digital document management, cybercrime has become more and more sophisticated, which has resulted in a boost in online security options. There is a fine balance between the ease of use of document management software and the vulnerabilities it creates. This means ensuring your business content is secure will be a major trend going into 2020.
According to a 2019 McFee report, it has been found that the majority (52%) of organizations experience better security in the cloud than in on-premise IT environments. This is primarily because security is literally built into these systems. With processes like role-based permissions, digital archiving, and automated backup plans, your data is safer than ever. By implementing a document management system, your company will have a streamlined, highly secure system with scalable storage space and a much wider range of features and capabilities.
Increased affordability
The large-scale adoption of online software management globally has created a more competitive market, which is always good for the consumer. Cutting-edge document management software was once so expensive that many organizations chose to avoid it altogether. Today's vendors know that in order for their software to be adopted universally, it has to be affordable. Cloud computing and advancements in technology have made it possible to purchase benchmark document management and intranet software solutions without breaking the bank. Therefore, there are more sophisticated solutions available for much more reasonable prices.
In addition to lower up-front costs, document management systems are saving companies more money. Document management software is a tool that can completely overhaul manual processes. Digitizing documents and controlling electronic documents allows organizations to eliminate paper storage, streamline operations, and improve communication. Organizations will reap the benefits of this boost in efficiency by shifting resources from clerical tasks towards revenue-producing ones. By avoiding extra hires, minimizing time wasted on filing and finding missing documents, and increasing overall business efficiency, digital document management systems now have the ability to save your company more money than ever before.
These 3 document management trends give us an idea about what 2020 holds for document control software. Businesses are moving on from outdated, traditional applications in favor of integrated, user-friendly solutions. Online security, cloud computing, and increased affordability have permanently impacted document management, making life easier for business professionals across every industry.
If you are currently stuck with an antiquated document control system, consider switching to a document management software like DocXellent's ENSUR, and stay ahead of the competition. Contact us for a demo or for more information about our ENSUR Document Management Software and DocXellent Managed Cloud solutions to improve your company's efficiency and help your company move toward the future.