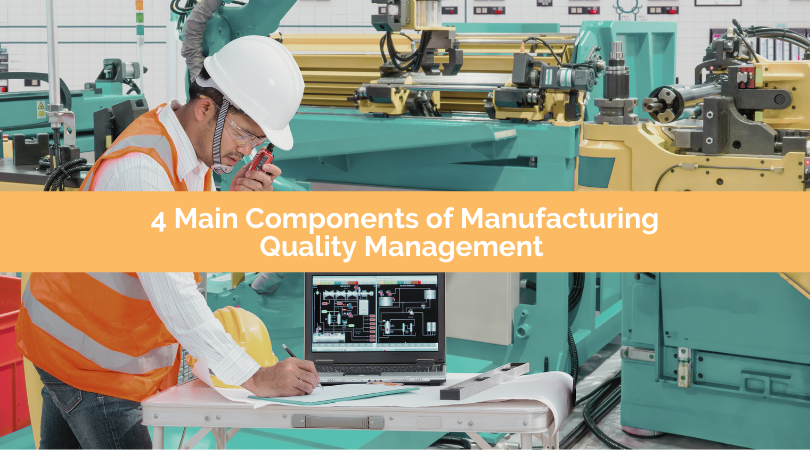 For manufacturing companies, a strong quality management process is essential. Not only can it help you avoid regulatory fines, but it can also ensure you're meeting customer expectations and drawing repeat business. When explored, quality management can be broken into four key components. This article will discuss each of those four components, as well as explain how your manufacturing company can optimize your quality processes with a Quality Management System.
What are the Four Main Components of Quality Management?
In general, quality management consists of these four pillars: quality control planning, quality control, quality assurance, and quality improvement. However, the manufacturing industry has a more specific view of what these pillars mean to their overall operation. Let's take a look at each of them more closely.
Quality control planning
The objective of quality control planning is to set the direction on what your company will do to ensure your products meet customer and quality expectations. This portion of the quality management process involves identifying your goals, what your quality standards are, the requirements necessary to meet these standards, and what procedures will be used to check that these criteria are being met. Many customers, as well as ISO auditors, call for manufacturing companies to have a documented QCP (Quality Control Plan) for all processes they have in place. In this planning stage, you will want to consider:
What your stakeholder's expectations and priorities are, if applicable
What your company's definition of success is
What legal standards or requirements are in place that must be abided by
Who will handle each role in the quality management process (supervision, testing, etc.)
How often processes will be evaluated for improvement
Quality control
Similar to the planning stage, quality control is the process that ensures customers receive products that are free from defects and meet their needs. However, quality control consists of physically inspecting and testing what you laid out in the planning stage to make sure it is obtainable. For most companies, this consists of testing raw materials, pulling samples from along the manufacturing line, and testing the finished product for inconsistencies. Testing at the various stages of manufacturing helps identify where any production problems may be occurring and help you determine what steps will be required to prevent issues in the future.
Once the inspection data has been collected, it should be displayed in a way that makes it easy to analyze. You can create histograms, run charts, or cause and effect displays, and then easily share them through your quality management software to make sure everyone has access to them.
Quality assurance
While quality control is primarily reactive, quality assurance refers to the proactive components of quality management such as defining processes, team training, tool selection, and product inspection. By inspecting your goods or services at the source, you can catch mistakes before they reach the customer. You can also fine tune your processes to prevent errors in the future. When reviewing your product or service during this stage of quality control management, you will want to follow these steps:
Confirm that everything is operating as it was agreed upon during the quality planning stage
Measure how effective your pre-determined processes are and confirm that all compliance needs are being met
Take note of any lessons learned
Identify areas where there is an opportunity for a smoother process
To be effective, quality assurance must be completed regularly through independent audits. For the best results, have the audit completed by a third-party that is not financially or emotionally invested in the outcome.
Quality improvement
Once the quality management process is laid out, it's time to review your findings and plan how to improve. Gather all your data, re-evaluate both the processes and the product—always keeping compliance in mind—and then begin the quality control management process again. With each cycle, you will end up with a better product, happier customers, and more profit in your pocket. Making quality management a priority is futile if you have no way to improve upon the process flaws you come across.

What are the Components of a Quality Management System (QMS)?
The purpose of a Quality Management System (QMS) is to make overseeing your quality management methods simple. Instead of managing quality manually, a QMS gives you control over your manufacturing documents and regulatory process, helping you deliver quality products consistently. Here are two of the major components of these systems:
Manage quality documents and standards
One of the major benefits of a QMS is its ability to help you manage all your important quality documents. These systems allow you to link your data in other systems to a quality specification, material certification, drawing, or image to reference quality incidents. This linking ties together the cause and effect of every internal or supplier-related quality incident, creating a transparent supply chain. The quality processes you can manage in a QMS include, but are not limited to:
Adhere to regulatory guidelines
Those in the manufacturing industry are tasked with meeting a wide variety of compliance requirements, especially when it comes to handling quality. In addition to customer expectations, manufacturers need to manage REACH, RoHs, ISO, UL and other governing bodies, most of which require a detailed traceability process to ensure that your company is running up to code. And attempting to navigate these regulations manually involves a lot of work, time, and hard-copy documentation.
Instead of keeping track of your traceability and compliance through paperwork, a quality management system can automate these processes. These systems include the tools necessary to provide the visibility you need to quickly find, track, and report critical information related to a product's location, production status, and supplier source. Specific regulatory capabilities include:
Forward and backward lot tracing, including the ability to link lot numbers with ingredients
Searching for specifications by title, document number, created by, effective date and other metadata
Easy inclusion into BOMs to manage related documents together
Full audit capability for knowledge of who did what when to every document
Historic and archive status for documents that have been revised and recall of legacy content
What are the Benefits of a Streamlined QMS?
Achieving complete quality management is difficult, especially with no centralized way to organize the process. With the components listed above, a QMS can help you streamline your process of organizing, accessing, and controlling all your important documents. Here are five primary benefits to utilizing one of these systems: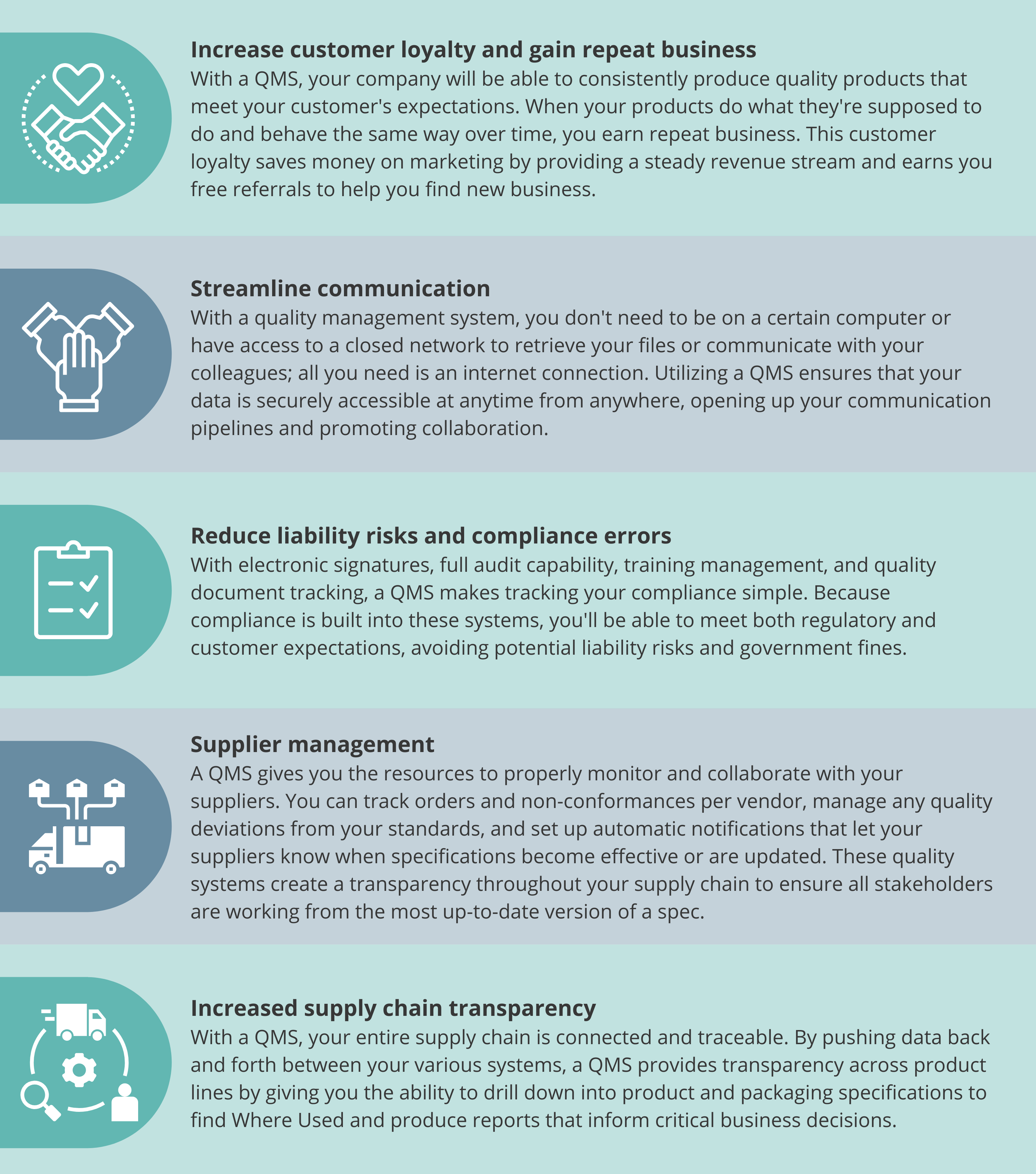 With an effective quality management software, quality control management becomes simple. When you combine a thorough plan, effective implementation, in-depth analysis, and a software vendor that provides you with the ability to effortlessly access and share all the documents you need, your company has the tools necessary to track its quality processes from raw materials all the way through delivery.
Check out our other resources on this topic:
Contact us today to learn how our QMS software, ENSUR, can help your manufacturing company improve its quality processes, avoid recall disasters, and remain compliant.