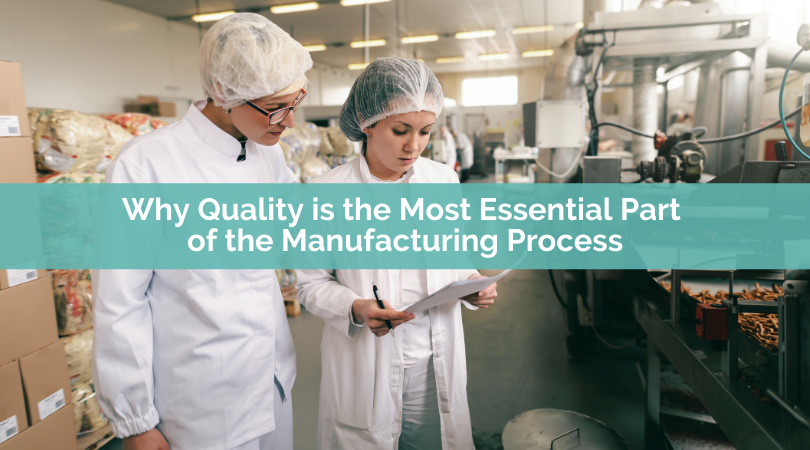 If you work in the manufacturing industry, you probably worry about your process and product quality constantly. But just how important is quality when it comes to manufacturing practices? Why is it so important to create something of high quality for your customers; and how can dedicating yourself to quality improve your business process in the future? In this article, we'll dive into these questions as we discuss how consistent quality processes can lead to the creation of reliable products, a conservation of resources, and makes it much easier for you to comply with government regulations. Read on to learn more.
1) Create Consistent Products
A primary reason why companies aim to keep their quality processes up to par is to create a consistently high value product. With intensive quality-control measures in place, your products reach higher and higher levels of quality, which has numerous benefits for you and your company. Not only will your customers receive a better product, but you'll have the satisfaction of knowing that when customers buy from you, they're genuinely getting their money's worth. A focus on quality allows you to feel absolutely confident every product leaving the manufacturing floor is of equal value and you can sell it for the same price.
Even further, when your products are dependable and high-quality, you can create brand loyalty. Customers pay attention to the quality of the product they buy. If they find your product to be better than others on the market in terms of trustworthiness, they become loyal to your brand and begin to seek you out instead of your competitors. This means that even if your product looks different or changes in anyway, they'll trust it's still the best on the market and continue to purchase it. Even better, they may help you actively expand your customer base by recommending your products to their friends and family.
2) Comply with Regulations
Another benefit to creating consistent quality measures is how simple it makes complying with government regulations. Those in the manufacturing industry are tasked with meeting a wide variety of compliance requirements. In addition to customer expectations, manufacturers have to manage REACH, RoHs, ISO, UL and other governing bodies, most of which require a detailed traceability process to ensure that your company is running up to code. And attempting to navigate these regulations without quality standards in place involves a lot of work, time, and excess documentation.
However, if you create a quality process that automatically checks for the same deviations as a regulatory body would, you can make sure you're keeping up with government standards quickly and efficiently. As laws to protect the consumer have become more and more strict, and government regulations continue to evolve, the ability to quickly recall and solve production issues has become imperative. Quality standards give you the ability to utilize traceability along your production line, locate any compliance deviations, and solve them proficiently. This way you know your processes are up to your expected standards in terms of quality, and that they're meeting government expectations.
3) Conserve Your Resources
A frequently overlooked benefit to a standard quality process is the ability it gives your company to conserve your manufacturing resources and save money. In the manufacturing industry, conserving resources throughout your production process is always important. Obtaining more necessary parts, pieces, and/or raw materials from your suppliers means spending more money, which in turn equates to lower profits all around. It is more sustainable to make the most of the materials you have and avoid unnecessarily wasting them whenever possible.
Employing components of quality control is an excellent way to do this. Managing your quality process helps ensure fewer mistakes and false starts in your production line, consequently helping you get the most out of your materials and resources. Putting quality process standards in place will ensure that you can anticipate production issues before they happen, deal with them before they become a major mishap, and reduces the amount of wasted materials your company creates in the process. This method of improvement doesn't just help save company money, but also reduces the time and people needed to correct these errors. Naturally, these translate to increased overall profitability.
How Can a Quality Management System (QMS) Help Streamline Your Quality Process?
With these noticeable benefits, it becomes clear that a thorough quality management process is necessary for any manufacturing company. But with a manual method of tracking quality, your company could be losing out on efficiency. This is where a quality management system (QMS) comes in. Instead of keeping track of this quality process through paperwork, a quality management software can automate these processes to make them more efficient. DocXellent's QMS, ENSUR, includes the tools necessary to provide the visibility you need to quickly find, track and report critical information related to a product's location, production status, and supplier source. Specific capabilities include:
Forward and backward lot tracing, including the ability to link lot numbers with ingredients
Searching for specifications by title, document number, created by, effective date and other metadata
Easy inclusion into BOMs to manage related documents together
Full audit capability for knowledge of who did what when to every document
Historic and archive status for documents that have been revised and recall of legacy content
If your manufacturing company is looking to improve product consistency, avoid production mistakes, and remain compliant, a QMS can help. To learn more about DocXellent's QMS Software, contact us today.