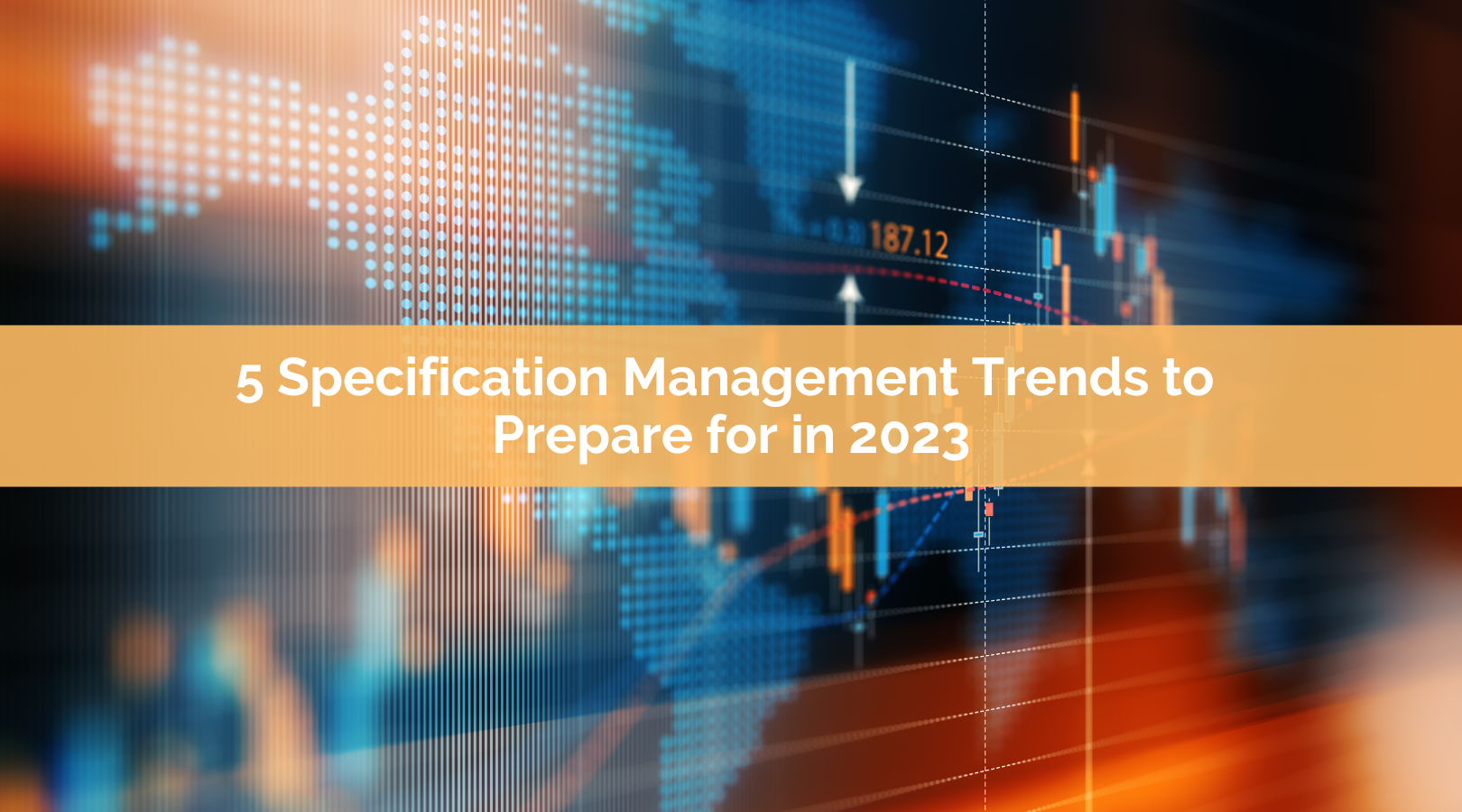 For manufacturing and packaging professionals, it's once again time to start planning for the coming business year – and looking to the future of Specification Management and how you can innovate your processes is a great first step. While your company creates its strategic plan for 2023, it's worth reviewing the top trends that will be impacting product and packaging specifications for the coming year and beyond. Experts in the field are expecting a year of accelerated digital transformation, an emphasis on supply chain visibility, sustainability, customizable tech, and cloud technology prioritization. Read on to learn more.
Accelerated Digital Transformation
The year 2023 is predicted to be one of unprecedented digital growth. Companies will see developments in technologies like artificial intelligence (AI), the internet of things (IoT), virtual and augmented reality (VR/AR), blockchain, and faster network protocols. These technologies are expected to begin overlapping more than ever before, with the boundaries between them blurring.
With this advanced technology will come advanced ways of managing specifications and data. In fact, a recent NaviSite survey shows that Chief Information Officers (CIOs) are planning to shift more of their budgets toward digital transformation in 2023. 88% of those executives plan to invest even more over the next 3-5 years, with cybersecurity (43%), cloud-first strategy (37%), and data integration/data management (32%) at the top of the priority list for 2023.
Prioritization of Supply Chain Visibility
As supply chains grow more complex and consumers become more interested in where their products are coming from, supply chain visibility has become more important than ever. Visibility describes the ability for supply chain managers to track goods and shipments throughout their supply chain process, from sourcing raw materials and transportation to manufacturing and distribution. Increasing visibility into your supply chain can benefit almost every aspect of a business, including sustainability, quality, meeting customer demands, and improving the bottom line.
If you're managing product/packaging specifications and other manufacturing documents, implementing a specification management system (SMS) that integrates with ERP systems can increase your supply chain visibility and streamline your product/packaging life cycle. By pushing data back and forth between your systems, this software provides transparency across product lines by giving you the ability to drill down into specifications to find Where Used and produce reports that inform critical business decisions.
Focus on Sustainability
Another anticipated specification management trend for next year is an emphasis on sustainability. With changing consumer demands and stricter government regulations continuing to push companies toward greener practices, businesses will continue to search for and adopt sustainable efforts, from sourcing sustainable raw materials to evaluating greenhouse gas emissions in transportation.
According to Forbes Magazine: "investors and consumers prefer businesses with the right environmental and social credentials, and buying trends are increasingly being driven by conscious consumers – those among us who prioritize factors such as ecological impact and sustainability when choosing whom to buy from or do business with." So, if your company wants to keep up with competitors and the changing business climate, a focus on sustainability is imperative.
As a result of the increasing emphasis on greener practices, specification management systems allow for tracking information about your specifications at the spec level which can then be rolled up to the BOM level. This is important not only for geographic regions, such as the EU where it's important to know for tax purposes, but also as part of ongoing initiatives to reduce overall carbon footprint and increase the conversion over to sustainable packaging components.
The type of data that can (and should be) tracked are:
Widely recyclable
Technically recyclable
Contains recycled content (and if yes, % recycled content, % pre-consumer content, % post-consumer content)
Is packaging biodegradable?
Is packaging compostable?
Pack specs of late are not only including the component's data, but the packaging OF the component – i.e the cases and stetch wrap the components are being shipped in/with to the packing sites, as this is all part of the supply chain of materials.
To promote sustainability, manufacturers should be asking for this level of data from their suppliers because they're responsible for the sustainability of their products and their packaging. Generally, suppliers can grant you access to this data and have been increasingly coming up with innovative solutions for making the components they produce sustainable.
Once your data is managed in a specification management system, reporting can be done using BOM quantities, and when merged with ERP sales data, this can be reported to the proper compliance authorities. Sustainability initiatives can be tracked within your spec management system, ensuring that all new specs are made from recycled content or can be recycled, and that all legacy specs are being slowly made obsolete. You won't need to worry about meeting government regulations that outline sustainable practices, the system will make it simple.
Customizable Technology
Technology that caters to the consumer has permeated every aspect of modern tech usage, leading to the need for customizable solutions. And as 2023 creeps closer, industry professionals expect this trend to continue in the spec management space as well. Companies that use specification management solutions can expect to have more control over the software functionality, allowing them to customize the systems to meet their unique business needs.
Expect more customizable reporting, with the ability to design the fields necessary for your data tracking and reporting processes, like "Yes/No" fields, integer entries, or picklists. Using sustainability as an example, some companies prefer simply asking the Yes/no questions while some prefer to list the materials used for a component, and then have tables that identify if a material is/is not recyclable, and that is merged when running reports. There is no single way of managing data, it's the customer's preference as to what suits their business practices. The overarching goal of customizable tech is to ensure the data is being tracked using compulsory fields that make it easy to enter, search, view, and report on data, making software users' job easier than ever.
Promotion of Cloud Technology
Cloud technology has experienced massive growth since its inception in the mid-2000s – and it's only expected to expand in the coming years. According to Gartner, enterprise IT spending on cloud computing will overtake spending on traditional IT in 2025. By 2025, 51% of IT spending will encompass the application software, infrastructure software, business process services, and system infrastructure markets, up nearly 10% from 2022.
This growth makes sense, as cloud technology offers increased flexibility, stronger security control, and decreased overhead costs that traditional computing can't. And for companies whose work is dictated by a supply chain, the cloud can deliver major benefits:
Reduced Validation Overhead – If your company requires a validated specification management system, many cloud systems provide complete GxP and 21 CFR Part 11 Compliance.
Reduced Risks – Cloud vendors are responsible for protecting against loss of data or productivity and managing backup and recovery tools.
Security – Cloud hosting allows for better data protection with the ability to quickly deploy security patches and potential virus responses without needing the help of your IT resources.
Accessibility – Users can safely access the cloud with their credentials through the web on any device, anywhere.
External Collaboration – The Cloud allows you to give suppliers, vendors, consultants, and others access to the application. Most vendors offer a layered security model that enables administrators to manage what external users can see and do in the system with a high level of granularity.
Scalability – The Cloud can grow to a virtually unlimited size.
Cloud storage is still evolving and continues to create an easier and more accessible spec management process.
These five trends give us insight as to what 2023 holds for specification management. As product manufacturing continues to evolve, it's never too early to start planning your future specification management strategy. Adopting these trends can lead to decreased production costs, increased visibility into your processes, and a more streamlined supply chain.
Check out our other resources on specification management:
If your company still relies on a paper-based specification management system, consider switching to software like DocXellent's ENSUR. Contact us for a demo or for more information about our ENSUR Specification Management Software.