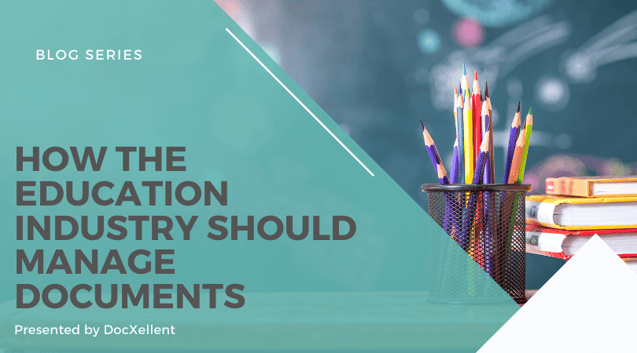 In part three of our blog series, "How Your Organization Should Manage Documents," we discussed the specific challenges faced by companies in the agriculture industry when organizing their documentation and remaining compliant, and how a Document Management System (DMS) streamlines the document management process. In part four of this series, we will take a deep dive into four key challenges faced by the education industry and discuss how school systems can overcome these challenges using a DMS.
Challenges Faced by the Education Industry
If you are in the education industry, you know that documentation is a constant challenge. Each student generates a whole new series of paperwork: records, financial aid documents, applications, etc. And that is not even taking into consideration the documents generated by faculty and staff. From the smallest school district to the biggest university, educational professionals are often overwhelmed with the constant stream of documents. Below, we will take a closer look at some of the current challenges faced by the education industry and provide recommendations on how to move past these pain points with a document management system.
Student Privacy
Whether you work for a small school district or large university, you understand the paper processing challenges that face educational institutions at all levels. One of the most important of these being keeping student information secure and private. Those in the education industry deal with thousands of documents every school year, and these range from things like student transcripts and medical records, to report cards, standardized tests, and attendance sheets. And most schools still use an archaic method of filing. Unfortunately, paper records or unorganized, unsecured digital copies of these documents opens the doors for the information to fall into the wrong hands.
In fact, a recent study found that out of seventeen major industries, education ranked worse in terms of cybersecurity. Schools collect sensitive information on every one of their students, and a breached record can provide malicious parties with a deep look into a student's personal information. Or, with universities and colleges handling a large number of student fees, cybercriminals may target their digital information for financial gain.
With a DMS, there's no need to fret about document security. Your education document management system keeps confidential documents easily accessible to those who are authorized while completely private from prying eyes. Information can never be overwritten, lost, or accessed by a user without the right credentials. Your student and faculty information will be safe and sound behind walls of encryption, user rights, and anti-virus protection.
Incident Tracking
Another major time impediment for schools and universities is managing the paperwork involved in documenting and tracking campus incidents, accidents and injuries. Undesirable events are unavoidable, and your school needs a system in place that will enable you to mitigate these serious issues quickly and efficiently. Additionally, managing new policies and procedures that may arise from these incidents and training employees on them can be an overwhelming and time-consuming process.
Luckily, a DMS helps you manage every aspect of incidents like these across their life cycles with a built-in incident workflow making it easier to document them, include statements from parties involved, link supporting documentation, distribute remediation plans, and print reports. The system also allows you to manage your policies and procedures, automate employee training, and even test their knowledge with quizzes to ensure compliance. Managing incident tracking effectively is key to minimizing incident response time and volume. A document management system will help you do just that, cutting back on paperwork, saving time on labor-intensive incident processes, and ultimately keeping your students and staff safer.
Keeping within a tight budget
Due to the large amounts of documentation that comes in and out of school systems, costs of managing it all can run high. If you are a part of this industry, you know how strict education budgets can be; there is very little wiggle room for excess or unnecessary spending. Using a traditional paper system requires both company money, in terms of toner, ink, and paper costs, as well as employee time, in terms of filing and manually hunting down physical documents.
A recent Price Waterhouse Cooper study actually found that on average, a company spends $25,000 to fill one file cabinet and an additional $2,100 a year to maintain that cabinet. And, they reported that workers waste 20% to 30% of their work week just on managing documents or document-based information. That is a lot of wasted time, and when there is wasted time, there is always wasted money. By eliminating your company's reliance on paper, these costs will no longer fall on your system's bottom line.
Using a DMS, your documentation is stored digitally. There is no need to spend thousands on printing costs and wasted employee time searching for lost paperwork. By shifting collaboration, routing, and signatures into your secure and organized document management system, these company costs can be eliminated entirely, saving your school system thousands of dollars per year, and keeping you within your limited budget.
Managing Compliance
The regulatory landscape for education is immense and ever-changing. Federal laws applicable to educational activities include those related to higher-ed research, international activities, business transactions, gender equity, and hazardous materials, to name a few. On top of all of this, state and local laws and regulations only add to the complex and confusing task of remaining completely compliant. And unfortunately, compliance failures can be incredibly damaging for education systems, especially with increasing media vigilance.
How Your Organization Should Manage Documents
Fortunately, all three of these common challenges seen in the education industry can be greatly reduced by implementing a document control system like ENSUR. ENSUR is a document control and quality management software application that automates the management of documents and their workflows, helping you streamline your business processes and improve quality practices across your organization. Using these capabilities, your company will be able to ease the education industry's data security issues, keep up with incident management, remain within budget limitations, and keep up with government compliance, ensuring that your business is as secure and efficient as possible.
To learn more about how our document control software can eliminate your company's biggest document workflow challenges, contact us today.
This is the last post in our "How Your Organization Should Manage Documents" blog series. To read our previous posts, click here. Or, to receive updates on future series and posts, subscribe below.