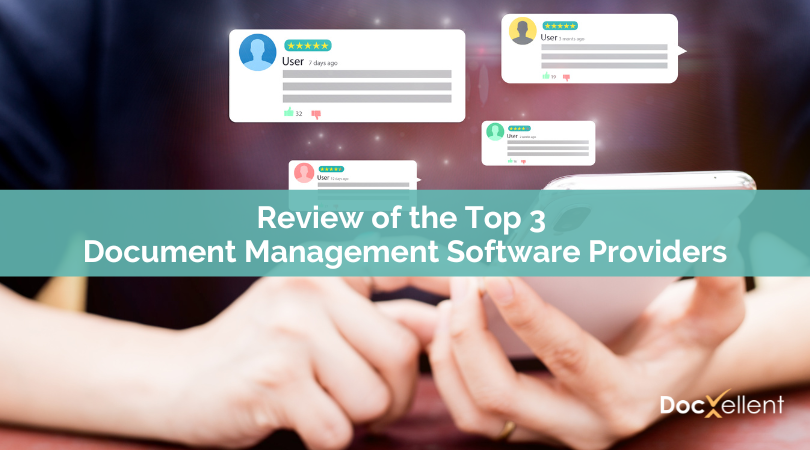 Choosing the Best Document Management Software
With so many different document management systems (DMS) on the market, it can be difficult to figure out which software is the best fit for your company. There are many requirements to consider, such as: cost, installation types, features, how easy it is to migrate your data, and the quality of the vendor's customer support. At DocXellent, we pride ourselves on helping companies find the most ideal solution for their business needs. So, we've compiled some helpful user reviews from three of the top document management providers (including our own) to help you evaluate which solution best fits your needs.
Master Control
Overall Rating: 4.5/5
Founded in 1994, Master Control offers quality management software with the goal of improving efficiency and accelerating time to market. A software-as-a-service (SaaS) provider, Master Control primarily targets pharmaceutical, medical device, and food and beverage companies.
Best For: "We achieve operational excellence across product development, clinical trials, regulatory affairs, quality management, supply chain, and manufacturing."
Pros from Users

"[Master Control] allows everyone from the company to check the status of certain processes at a given moment in time. With a simple search, you can [quickly] get a short overview of what is going on." Laurentiu B., QA Specialist working in Pharmaceuticals
"[Master Control] significantly lowered our risk, makes our processes more efficient, and streamlined ongoing system maintenance and support. Many systems are good about recording information (all the inputs) but don't put much effort into the outputs. Master Control makes it easy to pull out the information you are looking for and schedule specific reports for delivery when needed." Jon T., Quality Director working in the Medical Device Industry
"It has a lot of functionality for creating, collaborating on, editing, and storing documents. The system works well for these purposes." Cody K., Quality Control Systems Coordinator working in Biotechnology
Cons from Users

"I feel that the system falls VERY short on ease of finding information and Reporting (getting data out) and overall GUI organization making the End-User Experience way more complicated than it needs to be." Darci P., Quality Systems Manager working in Pharmaceuticals
"Navigation is difficult. 'Help' is convoluted - no easy way to find answers. For example, I wanted to know where my task disappeared to after I clicked Launch. Could not find an answer. App stalls very often with the back button. I could go on, but I'm tired. I've been trying to navigate Master Control for the last 3 hours." Susan E., Software Test Engineer working in Biotechnology
"Some configuration is not very intuitive. If you go into this system blind or without adequate training, then it's very easy to make hard-to-fix mistakes." Adam A., QA Tech Specialist working in Biotechnology
Veeva Vault

Overall Rating: 4.5/5
Veeva Vault is a content management platform and suite of applications built for the life science industry. Because all Vault applications are built on the same core platform, companies can ease the flow of documents across regions and departments, eliminating system, site, and country silos and streamlining their end-to-end clinical processes.
Best For: "We deliver solutions to companies throughout the life sciences industry, including pharmaceuticals, biotechnology, medical products, contract sales organizations, and contract research organizations."
Pros from Users

"Veeva Vault has good features that are standard across the board, but they also integrate well with each other and allow a lot of extra features through customization." Prince J., Senior Business Analyst working in Biotechnology
"It is an easy-to-use tool to store documents for clients. It allows us to upload documents to the clients cloud easily." Anonymous, working in the Health and Wellness industry
"Veeva allows for version control between different drafts of the document, as well as the option to share the document between multiple owners, which is great for when you're working across state lines and time zones. There is also a date control for retiring the document upon expiration so that you no longer need to manage expiration for GMP (or just time-sensitive) related files." Anonymous working in Biotechnology
Cons from Users

"There are often a number of unnecessary steps when using the software (for example, you can't upload multiple documents at one time, so you have to go through and upload each individually). " Sarah B., Research Assistant working in Biotechnology
"Poor search functionality; for a content management solution search functionality is vital. If it fails on this, it's dead in the water." Anonymous working in Healthcare
"Veeva Vault is more suitable for large projects/company with a large number of users. The license and training cost is also very high as compared to the other similar tools." Pinaki C., Programmer Analyst working for an Information Technology and Services company
DocXellent
Overall Rating: 4.6/5
Founded in 1983, DocXellent is a leading provider of electronic Document Control Software. Our software, ENSUR, is designed to help customers maintain quality and compliance by providing an efficient method of organizing and regulating their critical business content. ENSUR's Document Control, Specification Management, Quality Management and Training Management solutions are used by many different industries, including pharma, manufacturing, medical device, and more.
Best For: Companies that need an excellent solution for managing critical business documents, product/packaging specifications, quality processes, and regulatory affairs.
Pros from Users

"We implemented ENSUR in December 2019. Being fully remote for two years, starting in March 2020, we rely on ENSUR for more and more all the time. We could not have handled our research and training documentation during the pandemic with ENSUR and the DocXellent team. We have used ENSUR for a vendor audit and were able to provide all requested documentation, with ease." Melissa M., Intranet and Quality Management Software Administrator working in Research
"Customer Service and Support! The system is easy to implement and use because we have excellent support from DocXellent! they have always been great to work with and makes hard tasks easy when working with them!" Richard V., Change Control Analyst working in the Medical Device industry
"We have been using ensur since 2014 - lots of changes over 8 years, but ensur has handled them with ease. Whenever we discuss creating a new process, my go-to is always ensur. Slowly but surely we are transforming our old, paper-based processes to electronic, providing people with better access to the latest document versions, and more accurate tracking of approvals, in an easy-to-use, Part 11 compliant software program." Alexandra C., Quality Systems Manager working in Consumer Goods
Cons from Users

"We have sometimes had some issues with compatibility with different web browsers, but I think that has more to do with the browser issues than ENSUR." Sarah D., Quality Assurance Manager working in Pharmaceuticals
"Content Explorer View could be better if the user can configure to what individual needs are by hiding or adding more metadata columns. Report of KPI could be made simpler by choosing certain object, criteria and selecting certain filters." Albert T., Global Document & Packaging Tech Manager working in the Healthcare industry
"Training management module is not useful to the way we track training." Melissa M., Intranet and Quality Management Software Administrator working in Research
Choosing the right document management system is not an easy decision. It is important to consider your company's overall needs, your budget, necessary features, and the customization you require. Here at DocXellent, we believe we have the best DMS available for any size company. To learn more about what our customers think of ENSUR, check out some of our other reviews here. For more information on what to consider before choosing a DMS provider, read our guide here: 6 Must-Ask Questions Before Choosing a DMS Provider.
For more information on what makes our document management software and services different from our competitors, contact us today.