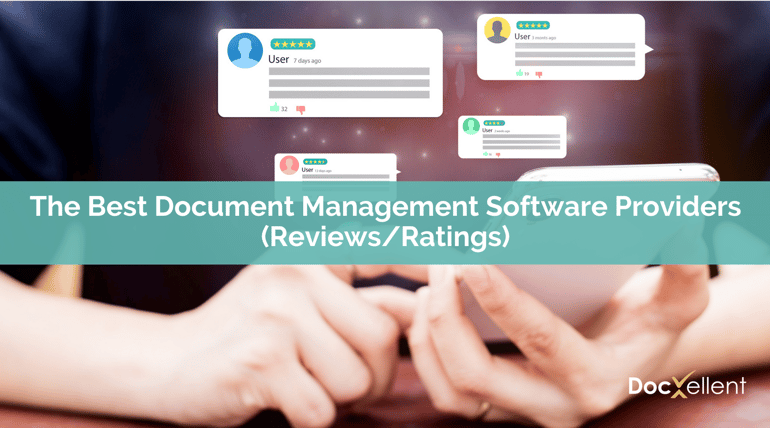 What is the Best Document Control System?
Every year, we talk to hundreds of document control, quality, and regulatory professionals who are looking for a better solution for managing their document control process. And because so many of them know our experience with document control and quality management, they often ask us about other vendors in the space.
At DocXellent, we pride ourselves on helping companies find the most ideal solution for their business needs and we want our potential customers to be as informed as possible when deciding on their preferred vendor. So, we've compiled a list of some of the companies that have a solid reputation in the DMS space, as well as their reviews and ratings from Capterra.
1. Qualtrax
Overall Rating: 4.9/5
Qualtrax is a quality and compliance software system used to manage and control documentation, automate business processes, manage customizable workflows, streamline training management, manage internal and external audits, and ensure implementation of critical industry regulations in real-time.
Best For: "Ideal for heavily-regulated industries, where compliance with standards including ISO 17025, 17020, 13485, and 9001, TNI, GFSI, FDA, and FQS are required."
Pros From Users:
"The flexibility of the Qualtrax software is by far the biggest selling point. The customizable and configurable workflows have helped our organization go almost entirely paper free in our Change Control, Deviation, CAPA and A/P invoice process." Kelsey S., Quality Associate working in research
"User friendly, customer service, workflows" Michael M., Quality Assurance Engineer working in manufacturing
"Software is very functional and user friendly. The Qualtrax team is always evaluating their product and increasing the functionality to meet customer needs." Robert D., Quality Assurance Specialist working in utilities
Cons From Users
"Workflows are useful and configurable but building them can be difficult at certain steps. More functionality would help during the creation of the workflows. Also, mining of the data stored within Qualtrax is limited and could be improved." Anonymous working in environmental services
"Some of the features are still old and clunky. Printing option needs to be improved. I would like to see more cloning options, like for tests and trainings." Elizabeth D., IMS Manager working in the chemical industry
"The overall cost to maintain the application is my least favorite aspect." Chris H., Quality Manager working in for a government administration
2. Veeva Vault
Veeva Vault is a content management platform and suite of applications built for the life science industry. Because all Vault applications are built on the same core platform, companies can ease the flow of documents across regions and departments, eliminating system, site, and country silos and streamlining their end-to-end clinical processes.
Best For: "We deliver solutions to companies throughout the life sciences industry, including pharmaceuticals, biotechnology, medical products, contract sales organizations, and contract research organizations."
Pros From Users
"Veeva Vault has good features that are standard across the board, but they also integrate well with each other and allow a lot of extra features through customization." Prince J., Senior Business Analyst working in biotechnology
"It is an easy-to-use tool to store documents for clients. It allows us to upload documents to the clients cloud easily." Anonymous, working in the health and wellness industry
"Veeva allows for version control between different drafts of the document, as well as the option to share the document between multiple owners, which is great for when you're working across state lines and time zones. There is also a date control for retiring the document upon expiration so that you no longer need to manage expiration for GMP (or just time-sensitive) related files." Anonymous working in biotechnology
Cons From Users
"There are often a number of unnecessary steps when using the software (for example, you can't upload multiple documents at one time, so you have to go through and upload each individually)." Sarah B., Research Assistant working in biotechnology
"Poor search functionality; for a content management solution search functionality is vital. If it fails on this, it's dead in the water." Anonymous working in healthcare
"Veeva Vault is more suitable for large projects/company with a large number of users. The license and training cost is also very high as compared to the other similar tools." Pinaki C., Programmer Analyst working for an information technology and services company
3. Qualio
Overall Rating: 4.7/5
Qualio is a cloud-based quality management system designed for life science companies. Qualio empowers medical device, pharmaceutical, biotech and contract organizations to get to market faster, boost revenue and cut risk. Qualio works to unite your teams, process data, and make your business more competitive.
Best For: Quality-centric start-up and scale-up life science companies looking to grow, unlock new markets and become more competitive.
Pros From Users:
"This software has a relatively simple learning curve. It has a lot of flexibility and lets you format procedures and records anyway you choose. The software contains useful features, easy-to-use interface, and finding documents is not too difficult either. Tech support is also excellent." Atul Pratap S., Sales And Marketing Specialist working in information technology and services
"It is extremely straight forward to use. You can train managers quickly on it and use/adoption rate is very high." Mickey T., Controller working in biotechnology
"Training process works well. The system can generate reports for each employee." Irma G., Director of Quality Assurance working in biotechnology
Cons From Users:
"Change control and periodic review reports need improvement. I cannot generate proper reports that provide visibility of these processes. The change control report is less than acceptable." Irma G., Director of Quality Assurance working in biotechnology
"The interface is not intuitive and document size is limited to only 100mbs." Max S., Principal Field Clinical Specialist working in medical devices
"Control over SOPs acquired knowledge is improvable." Jorge d., Biostatistician working in pharmaceuticals
4. ETQ Reliance
Overall Rating: 4.7/5
ETQ is a document management software for organizations focused on quality. Their software helps companies automate their processes, meet regulations, and keep up with consumer demands.
Best For: "For quality-centric organizations from mid-market to global enterprises in dozens of industries such as manufacturing, life sciences, food & beverage, electronics, automotive, chemicals and consumer goods."
Pros From Users:
"The ability to connect records throughout the many modules allows for seamless availability of data during investigations and audits." Jason H., QMS Administrator working in health care
"Cloud function and storage is great. Flexible design capability and changes to processes/workflow." John R., Director Quality Assurance working in Manufacturing
"The software is easy to customize to our business needs." Stephanie M., Quality Systems Specialist working in defense & space
Cons From Users:
"The biggest gripe we have with this software is the lack of reporting capabilities. There are some out of the box feature, but they are dated and limited in functionality." Cliff D., Quality Systems Leader
"The Employee Training module is scheduled for a much-needed update. It can't come soon enough. As it is right now the training module is really just a repository for training dates at our company." Ellen B., EHS Technician working in chemicals
"The thing I liked the least about ETQ is the lack of reporting capabilities. Also, technical support hasn't been great." Bhavik J., Software Developer working in financial services
Here are some other resources to help you choose a reputable DMS provider:
If you would like to talk to one of our experts about choosing the best document management software for your company, contact DocXellent today.