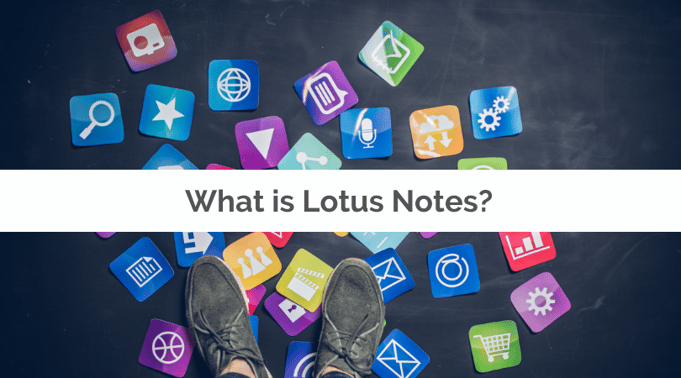 Since the software's conception, many companies have utilized Lotus Notes for their documentation needs. But what exactly is this system and how is it used? Created in 1982 and bought by IBM in 1995, Lotus Notes is an enterprise email system. It works as a workflow software that provides instant messaging, email, calendars, and contacts to companies across various industries.
Although Lotus Notes had a large user base for many years, the software has recently been decreasing in popularity. This is primarily because of IBM's announcement in 2012 that it would be discontinuing the Lotus brand altogether. While the Lotus database software is still available, it is sometimes considered an inactive brand. IBM sold this software to HCL Technologies in 2018, the company that still owns the rights to this product to this day. To fully understand Lotus Notes, let's look at who still uses this software, how it is utilized, and explore potential replacements.
Who Still Uses Lotus Notes?
The current Lotus Notes user base consists of primarily American computer software companies. These companies are generally small, with an average size of 10-50 employees and less than $10M in revenue. If you examine the overall collaborative software industry, Lotus Notes takes up less than 7% of the total market share.
After buying the Lotus system from Lotus Software, IBM's primary goal was to enhance workplace collaboration. To do so, everything in Notes was setup as a database. Each user has their own e-mail database, and different user groups have the ability to share databases that can display, add, or control company information. Aside from business data, these databases can also perform behind the scenes, planned, or on-demand tasks for a user. Essentially, this software is built to simplify a company's processes by integrating email, business applications, and collaboration into one easy-to-use workspace.
How To Use Lotus Notes Software
The Lotus Notes technology boasts many collaborative advantages. The software is dependable, perceptibly stable – having been around for over 30 years, and fairly cybersecure as compared to competitors. In the software, all your business data is saved on Lotus' Domino server, where each user can access it wherever they are at any time. With access to shared information in the system, employees can schedule meetings and mitigate issues with clients all within the software. Lotus' centralized database allows for streamlined document management, collaboration, and integration.
However, most companies that utilize this database software use it only as an email hosting technology and have been since the mid-90s. Since its conception, to keep up with the times, IBM and HCL have both tried to modernize this tech to keep up with competitors. This included making Lotus integrate with Outlook for people who prefer the Microsoft interface over the original client, to no avail. If anything, this modernization technique ended up pushing many customers to switch from Lotus to Exchange, since they felt more comfortable with Outlook to begin with.
Lotus Notes Disadvantages
There are some disadvantages to using Lotus Notes, as the brand itself is discontinued, including:
The Domino server and the actual Lotus Notes software itself requires constant updates and backups
Any kind of system change, even a minor group creation or e-mail address addition, requires an IT support individual. This means that Lotus requires a lot of management out of the box
Troubleshooting server, database, and desktop client issues can be very difficult and a strain on IT resources
Many organizations no longer employ the necessary resource(s) to support their Lotus Notes database
The software can leave you stuck with rigid workflows that once served you well, but are now out of date and require too much manual intervention
Your critical business documents are stuck in an application that is no longer supported by the manufacturer
The Best Lotus Notes Replacement
For the above-mentioned reasons, many companies who use Lotus Notes are looking to switch to a newer, more flexible out of the box and Commercially Available off the Shelf (COTS) technology. These companies are often looking to centralize documentation and workflows into a single system and create links to ERP and CRM systems.
When choosing a replacement, finding a configurable document management software with a team that is experienced in this type of complex data migration should be your first priority. In order to ensure a successful transition out of Lotus Notes, you will want to find a document or specification management software vendor who can offer the following features and services:
Features
Security and access control
Document creation and collaboration
Version control
Automated review and approval routing
Document linking
Quick search
Audit trails and reporting
Vendor/Supplier Management
Archiving
Services
Works directly with you to migrate your documents from Lotus Notes
Focuses on enhancing the user experience and providing structure to your workflows, even where it did not exist in Lotus Notes
Will identify optimum routing workflows, default numbering schemas, and use of picklists to organize data (as opposed to text-based user entries)
Will consult about read-only fields, read-only form pages, custom reports, use of masters and templates, security to control who can do what to the disparate datasets, etc.
For more information on DocXellent and our extensive experience with migrations out of Lotus Notes, contact us today.