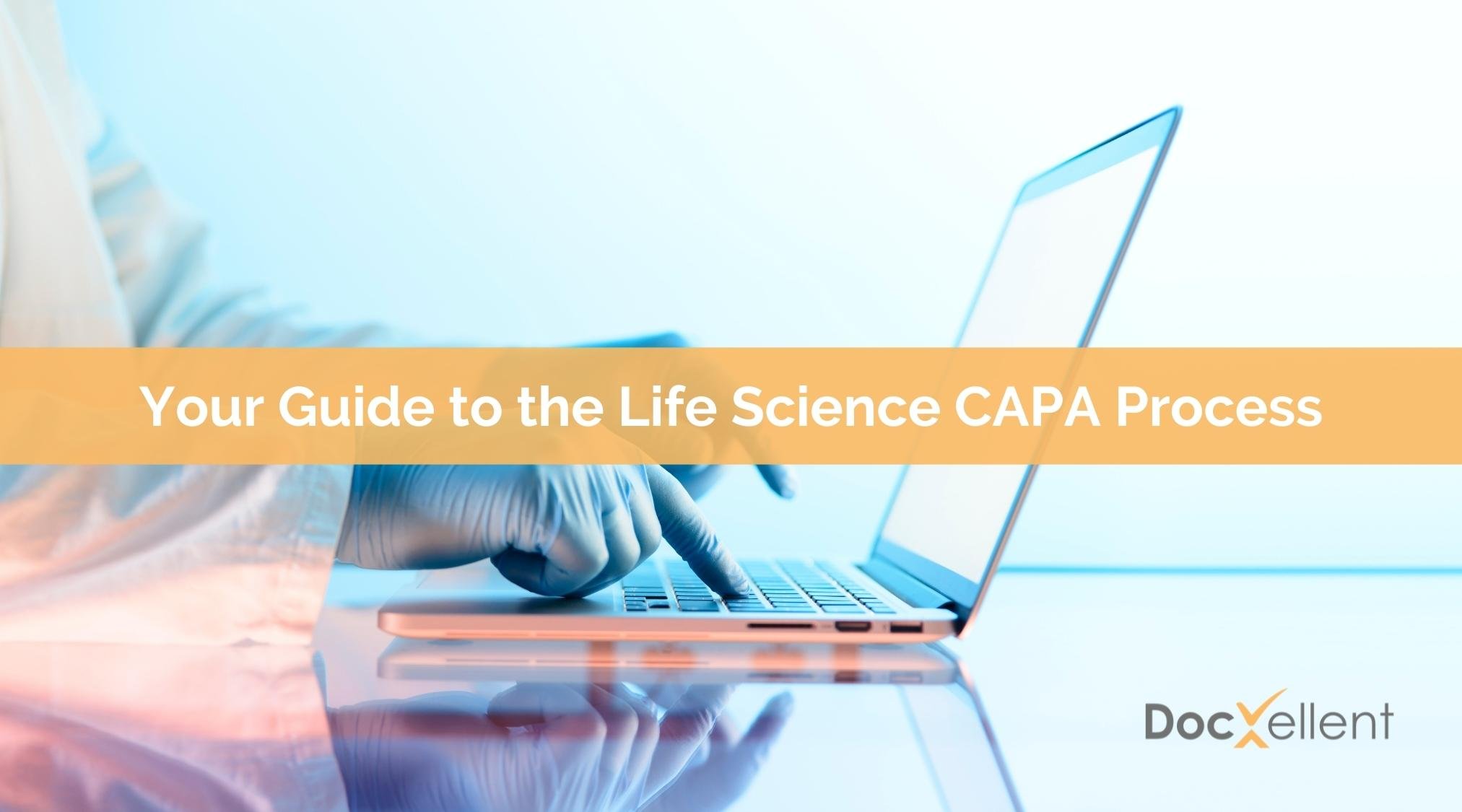 For companies in the life science industry, regulators require an official process for managing their corrective and preventative actions (CAPAs). Additionally, a strong CAPA workflow is necessary for audit preparation, maximizing cost savings, ensuring product quality, increasing efficiency, and maintaining regulatory compliance. We've created this guide to help your company navigate the CAPA process and answer some of the most common questions; including what the process includes, how you should manage it, common challenges, and how to find the best CAPA management software. Read on to learn more.
What is Corrective and Preventive Action (CAPA)?
To begin, let's break down what makes up the CAPA process. Essentially, CAPAs are processes for identifying, documenting, and addressing defects, deficiencies, and nonconformities in your product(s). The two aspects of CAPA, corrective action and preventive action, are connected but not interchangeable. Here is the main difference between the two:
Corrective Action: The elimination of the causes of an existing nonconformity to prevent recurrence
Preventive Action: The identification and elimination of the causes of potential nonconformities to prevent occurrence
Corrective is reactive, preventive is proactive. Used together, your company can learn to focus on the root causes of problems and risks so you can prevent these incidents in the future.
What Should Trigger CAPA?
Just because an issue occurs doesn't mean it needs to trigger the CAPA process. In fact, creating unnecessary CAPAs can cause additional costs, slowdowns, and wasted resources. There are three incidents that generally should trigger your CAPA workflow:
Non-conformances or Deviations
A non-conformance or deviation is a product or process that doesn't fulfill a specific requirement established by your company, such as a disconnected process or defective product. For example, a non-conforming product is one which does not conform to a manufacturer's specific requirements. Problems like these are non-conformities and should generally trigger a CAPA.
However, it's important to note that not all non-conformances or deviations will trigger a CAPA. In some cases, these incidents are minor enough that an organization may decide that the product can still be used as-is. On the other hand, you may notice that a specific type of nonconformance has appeared repeatedly. At this point, you are probably looking at a systemic issue and a CAPA may be warranted.
Customer Complaint
The FDA defines a complaint as any communication from a customer that alleges deficiencies in your product after it has been placed on the market. The communication mode can be written, oral, or electronic. As with nonconformances, a complaint should trigger an investigative process that identifies the issue, how it affects the customer, and the root cause of the problem.
Audit finding
Audits, both internal and external, may uncover issues that need to be addressed. If your company or regulatory body finds any systemic issues during an audit, it should trigger a CAPA process. For example, if an audit finds that unwanted particles are found in an injectables filling procedure, it will result in non-conformance. And since this is a serious issue, it would require a CAPA.
How Should Your Life Sciences Company Manage CAPA?
With the basics outlined, it's time to look at best practices for managing your CAPA process. To maximize efficiency, it's recommended to follow seven steps:
1. Identify the issue
The first step of CAPA is to clearly define the potential or actual problem. This requires an accurate and complete description of the specific source of the information that initiated the action, as well as a detailed description of the problem and available evidence that the problem exists.
The source of information may be external or internal, such as a customer complaint, service request, risk assessment or internal quality audit. The description of the problem should be concise but contain sufficient information to ensure that the problem is easily understood when read. When documenting any available information that indicates the problem exists, look at things like system downtime or inefficiencies within your processes.
2. Evaluate the problem
Next, it's time to evaluate the problem to determine the level of action required. Part of the evaluation is an explanation of exactly why the problem poses a risk, such as its possible cost implications, product quality, or safety issues. The risk level associated with the problem may affect the priority of actions that are taken. For example, a problem that presents a higher risk to the function or safety of a product may be assigned a high priority and require immediate action.
3. Investigative procedure
Next up, the problem is investigated for further planning. To ensure that the investigation is complete, and nothing is overlooked, a written plan should include at least the following elements: an objective for the actions to be taken, the investigation procedure and timelines to be followed, and the responsibilities and resources required.
4. Find the root cause
This step identifies and establishes the root cause of the problem by investigating the available data. Using the plan created in the investigative stage, the required information must be accurately depicted and preserved to reflect the actual cause of the problem.
Identifying and documenting the root cause is essential for determining the appropriate corrective and/or preventive actions that must be taken.
5. Plan the resolution
After determining the root cause, it's time to develop an action plan for correcting and/or preventing the problem in the future. A CAPA action plan should include at least the following: tasks to be completed, changes to processes, employee training, which personnel are responsible for each task, and an expected completion date.
6. Implementation
After next steps have been outlined, the plan needs to be implemented throughout the organization. The most important piece of this step is documentation by the ways of an implementation summary. To create an implementation summary, all activities carried out should be listed and summarized, creating a complete record of actions taken to correct and prevent future instances of the problem. This includes changes, preventive measures, process controls, and training.
7. Follow-up
After implementation, a thorough evaluation is essential. Your team needs to verify that all tasks have been carried out to completion and make sure they were effective. The implementation and completion of all changes, controls, and training, should be verified, the evidence of these actions' completion should be recorded, and you need proof that the root cause of the problem has been solved. This investigation and its results should be documented.
CAPA Challenges
While a well-oiled CAPA process is worth the effort it takes to implement, it often comes with challenges. Here are some of the most common problems companies have when they are struggling with their CAPA processes:
Poor root cause analysis: Root cause analysis (RCA) is a problem-solving process for investigating an identified incident, problem, or nonconformity. Unfortunately, determining RCA takes up resources and time, especially if your CAPA process is inefficient and disconnected.
Effectiveness checks: Effectiveness checks are used to determine if the corrective action has (or has not) fixed the problem. This action serves to close the loop between identifying the root cause of problem and completing the actions to solve a problem. This challenge is linked to poor root cause analysis; if the actual cause of the issue was not properly determined, it becomes difficult to assess the effectiveness of a corrective action.
CAPA process is disconnected: Companies that don't have their quality processes centralized in one system won't be able to offer their CAPA procedure full visibility into their other systems or data. Consequently, the struggle to resolve issues is compounded because problems are not visible across the entire organization.
Digitize Your CAPA Management Processes
Managing your CAPA processes manually can bring lots of drawbacks and inefficiencies. Not only do paper-based systems minimize the visibility you have over your processes and create the challenges noted above, but they also open the door for misplaced documents, lost signatures, and slow turnaround times.
Switching to a modern Document Management solution with powerful CAPA management capabilities allows you to digitize and automate your routine CAPA processes such as document routing, email notifications, task reminders, escalation, and document workflows. Instead of hindering your processes, a digital system helps to ensure regulatory compliance and increase efficiency. In the next section we'll dive into the capabilities your CAPA management software should offer and outline the five most important features you should look for.
How to Choose the Best CAPA Management Software
For life science companies, there are five must-have CAPA management software features. Without them, you could be falling behind on your CAPA process and missing out on crucial productivity.
1. Reporting
Inefficient CAPA reporting is the primary reason a CAPA management software fails to protect companies from potential incident risks. Reporting is defined as a standardized template for recording defects or complaints and the steps taken to correct an issue. At a minimum, your organization's CAPA report should include these details:
Description of the incident
Action taken
Resolution
Resources used
Team members involved
Planned resolution date
Actual resolution date
Without comprehensive reporting, your company will stand no chance at passing regulatory audits and, more importantly, you won't have the ability to track data trends. In addition to documentation, your reporting should offer insight into emerging issues so you can take preventive action to ensure the same mistakes aren't being repeated.
2. Workflows
Guided workflows are crucial to a streamlined CAPA program and helping your organization close issues on time. Without workflows, your teams can easily fall behind on tasks and lose track of the CAPA process. Within workflow management, a centralized database should provide the following benefits:
Electronic forms: help guide business and quality people to fully identify, record, define, investigate, and correct any non-conformance found
Linking: allows you to tie CAPAs directly to their quality incidents and related documents
Email notifications: prompt stakeholders to participate at their designated stage of the

CAPA workflow

and notify them of new tasks and updates to the status of the
CAPA Training: ensures your employees are trained on relevant quality and safety procedures
3. Integrations
A system that doesn't allow integration with other technology and software can lead to disconnected quality processes and a lack of transparency. You'll have no way to track timelines, keep open lines of communication with suppliers, or even link deviations and complaints to CAPA forms. Without these necessary capabilities, you eliminate visibility across your organization and your CAPA process is stunted from the beginning.
Prioritizing integrations, however, offers the following advantages:
Simplified data entry
Timeline assignment and automated email notifications
Streamlined communication with vendors
Link deviation reports/customer complaints to CAPA forms
Trigger SOP updates based on preventive or corrective action
Tracking quality trends with organizational reporting
4. Linked quality processes
Without linking your quality processes together, it's difficult to perform effective root cause investigations and prevent future incidents. If your CAPA process acts as standalone system companies often fall into the habit of treating issues as one-off, isolated incidents. And while you may come up with a short-term solution to the issue, it's bound to happen again if the root cause isn't resolved.
However, when you link CAPA to data and reporting through a Quality Management System (QMS), it's easier to drive quality improvements and understand the true cause of your incidents with trend analysis and SOP updates. You'll have the ability to work proactively rather than spring into action after an incident has already halted your business processes.
5. Audit trails
In order to meet regulatory compliance, your company needs to be audit ready at all times. The most efficient way to be prepared is to create audit trails within your CAPA management system. A comprehensive audit trail requires that every creation, modification, or deletion of any record should be automatically stored in an audit history file. This documentation should be retained for a specified period and needs to be available for FDA auditors to review and copy if required.
Audit trails also promote data-driven management by demonstrating how incidents are linked to your entire organization and helping you take preventive action in real-time. By using a centralized system to track document movement and changes, you can easily meet regulatory guidelines and make data-informed decisions, benefiting not only your CAPA process but helping you to improve your overall quality operations.
For regulated companies in the life science industry, an effective CAPA process is necessary for identifying and correcting issues and preventing their recurrence. Meeting CAPA requirements today demands a streamlined CAPA process – from identifying the problem through successful completion. And with a comprehensive Quality Management Software, your company can make this process simple.
Check out our other resources for optimizing your CAPA process: